This is a required field.
Invalid
Part number
Error in validation!
Measuring Systems for ViscoQC:

Spindle
+5
L or RH set included in standard viscometer delivery
According to ISO 2555/ISO 1652
To measure in an open beaker (infinite gap)
Flexible cup holder for highest repeatability in viscosity results
Looking for consumables & accessories for this product?
Click here
Save up to 15 seconds per test, when determining the viscosity of your samples, with the broad range of spindles and measurement systems available for ViscoQC. The magnetic spindle coupling is included for each spindle, and all spindles and measuring systems are automatically recognized - simplifying operation and avoiding manual user errors.
The best possible chemical resistance is guaranteed, as all spindles and bobs are made of high-quality stainless steel (AISI 316L). An optional spindle guard protects L/RH spindles during measurement and is traced by ViscoQC through TruGuard™. A flexible cup holder delivers reproducible results regardless of operator.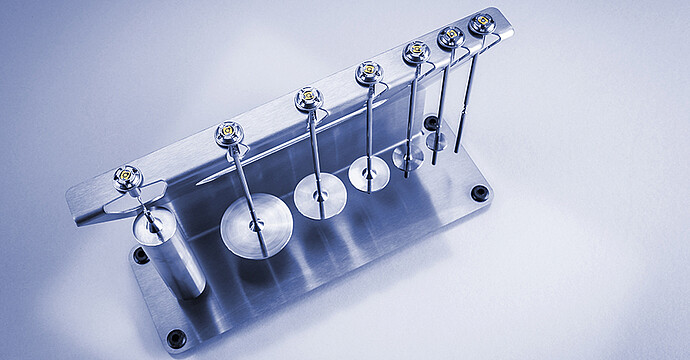 L/RH spindles according to ISO 2555/ISO 1652
L/RH spindles, so-called infinite gap systems, are included in each standard delivery of VisoQC100/300. Whereas the L-model contains 4 L spindles (L1-L4), the R- and H- models are delivered with 6 RH spindles (RH2-RH7). They are used within open 600 mL beakers, thus requiring at least 500 mL of sample volume if you want to measure standard-compliant. The optional Pt100 sensor for temperature sensing of your sample can be easily mounted on the beaker through its clamp. By the use of the flexible cup holder, you guarantee highest reproducibility, as different operators always have the same measurement position.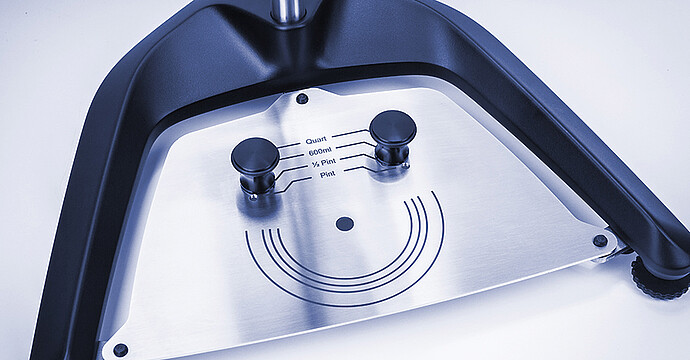 Defined-gap measuring systems
Concentric cylinders (CC), double-gap systems (DG), ultra-low viscosity adapters (UL), and small-sample adapters (SSA) should be selected as defined gap systems when absolute viscosity values are required and sample volume (2 mL to 18.5 mL) is limited. To measure low-viscosity samples starting from 1 mPa·s, the DG or UL must be used. Highly accurate, air-cooled Peltier temperature control devices are available. To increase throughput and reduce cleaning to a minimum, the use of disposable cups for some systems is recommended.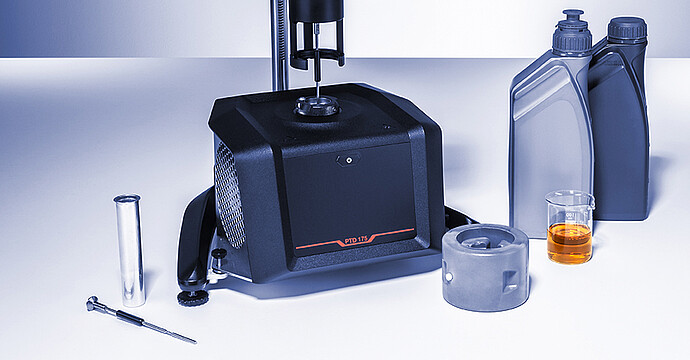 Systems for low-temperature viscosity determination
The determination of the low temperature viscosity of lube and engine oils according to ASTM D2983/D8210 requires an insulated 4B2 measuring system. If ASTM D5133/D7110 needs to be fulfilled, the L1D22 system is available. Both systems are delivered with 100 pieces of disposable aluminum cups to reduce cleaning and enhance throughput. Ready-to-use methods are pre-installed on the ViscoQC 300 with a V-Curve software package for immediate start-up and easy operation.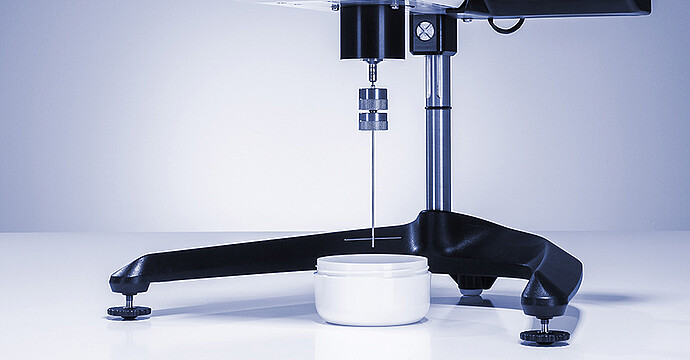 Systems to measure non-flowing samples
Non-flowing, highly viscous samples such as ointments, mayonnaise, and bentonite clay require a special technique for measurement. Standard measuring systems or spindles simply draw an air channel into the sample, resulting in meaningless viscosity readings, as they are not completely covered by the sample anymore. If a non-flowing sample does not contain any particles, the helical T-bar spindle movement through Heli-Plus or vanes can be used. If samples contain particles between 0.1 mm and 2 mm, vanes are the spindles of choice: They are highly viscous, and so a measurement directly within the sample container is possible.
| | | |
| --- | --- | --- |
| | Typical sample volume [mL] | Particle size in sample [mm] |
| L/RH spindles | 500 | 0.1 to 2 |
| Concentric cylinder system (CC) | 2 to 18.5 | <0.1* |
| Double-gap system (DG) | 7.5 | <0.01 |
| Ultra-low viscosity adapter system (UL) | 16 | <0.01 |
| Small Sample Adapter System (SSA) | 6.7 to 16.1 | <0.01** |
| Insulated 4B2 system | 20 | <0.1 |
| L1D22 system | 16.1 | <0.1 |
| T-bar spindles | 500 | 0.1 to 2 |
| Vane spindles | 500 | 0.1 to 2 |
Viscosity of the sample has to be considered to choose the proper spindle/measuring systems.
For more details refer to the FAQ section on the ViscoQC website.
* If a smaller bob is used in bigger cup, a bigger particle size is possible (< 0.5 mm)
** SC4-25, SC4-27, SC4-28, SC4-29, SC4-31, SC4-34 have a bigger measuring gap.
Anton Paar Certified Service
The Anton Paar quality in service and support:
More than 350 manufacturer-certified technical experts worldwide
Qualified support in your local language
Protection for your investment throughout its lifecycle
3-year warranty
Learn more