This is a required field.
Invalid
Part number
Error in validation!
Atmospheric distillation analyzer:

Diana
High-precision, high-sample-throughput distillation analyzer for fuels and solvents
Unique, indestructible vapor temperature sensor
Smart condition-monitoring system ensures error-free handling
Intuitive, customizable user interface with sophisticated connectivity software features
Accelerated liquid-free Peltier cooling for uninterrupted measurements
Looking for consumables & accessories for this product?
Click here
Anton Paar's Diana distillation analyzer series – Diana 700 and Diana 300 – automatically conducts high-precision distillation range analysis at atmospheric pressure.
Beyond characterizing petrochemical product samples, Diana 700 is able to distill aromatic hydrocarbons and other volatile organic liquids. The Diana series is easy to use, highly efficient, and safe to operate.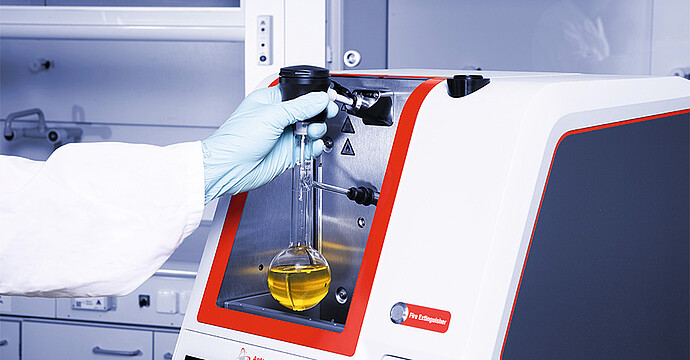 A convenient multi-plug with an indestructible temperature sensor
To provide a smooth operator experience and increase Diana 700's usability, we combined the vapor temperature sensor with the flask holder. The result? A multi-plug equipped with either an indestructible, metal temperature sensor or with a classic glass sensor. In a few seconds, you can install the distillation flask (125 mL or 200 mL) in the correct position with just one hand.
The multi-plug's integrated memory space holds up to 20 calibration points of the temperature sensor which are automatically applied when the multi-plug is mounted. This means when you exchange the multi-plugs, there's no need for recalibration.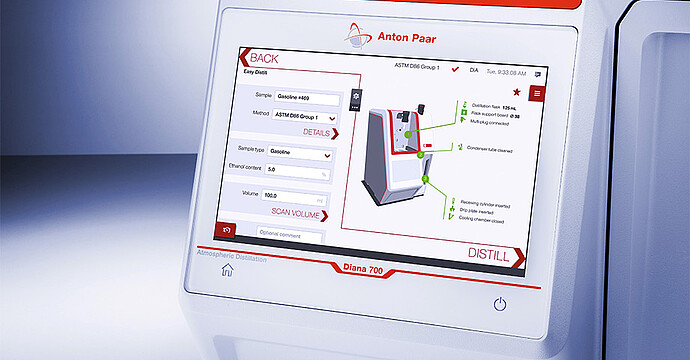 A smart user interface with condition monitoring
The Diana series has the same intuitive user interface you've come to know from other Anton Paar products.
With Diana 700's smart condition monitoring, we've automated your measurement setup and turned manual handling into a thing of the past. It has different modes for different user levels, including a "Guided Mode" for beginners and an "Advanced Mode" for more experienced users. The former takes you step-by-step through the instrument's startup procedure, while the latter displays the state of each instrument component and lets you jump right into the distillation process.
Diana 300 has a basic condition monitoring system that includes the most safety-relevant components along with a modern user interface.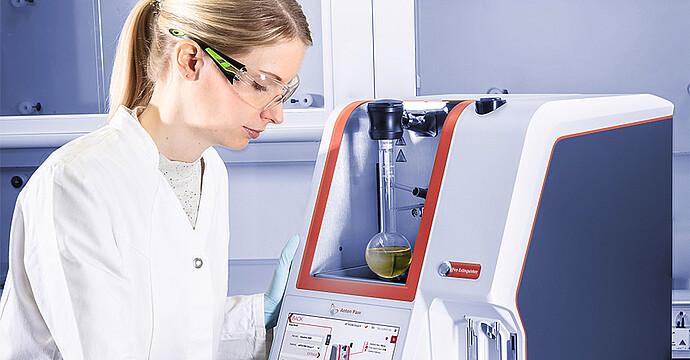 Designed with safety in mind
In case of an emergency, the Diana instruments come with a fire sensor and an internal fire extinguisher that's initiated automatically or with the push of a button.
For Diana 700, we built the automatic heater shield to surround the flask, which reduces your risk of coming into contact with hot components during measurement. It monitors all relevant conditions that are required for the distillation setup, including whether you have chosen the right flask, finished condenser cleaning, and/or selected the correct flask support board. As soon as the distillation process starts, the heater shield and heater move up automatically. With its status light – red for hot, blue for cold – you can always see the progress of the distillation process from a distance.
Although Diana 300's heater shield is manually operated, the flask temperature is displayed on the dashboard, which lets you know when it's safe to touch the flask after distillation.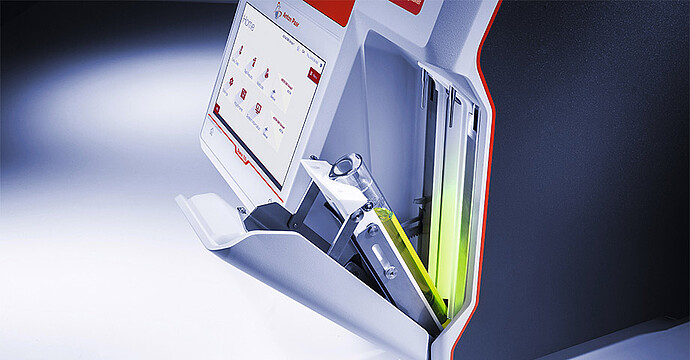 Highly accurate volume reading
For volume detection, the Diana series leverages the high accuracy of contact imaging sensor technology (CIS) to achieve precise determinations of the sample volume (resolution is 0.01 mL).
CIS technology does not have moving parts – letting you avoid instrument malfunction – and it can continuously follow the liquid level in the cylinder – delivering highly accurate results.
Thanks to the tight jacketing of the cylinder, the chamber ensures excellent sample and cylinder temperature stability. An unique cold trap prevents condensation caused by high humidity and reduces evaporation losses of volatile organic compounds (VOCs). Diana 700 can also measure the initial volume before the test starts and correct it to 100 % volume (if needed).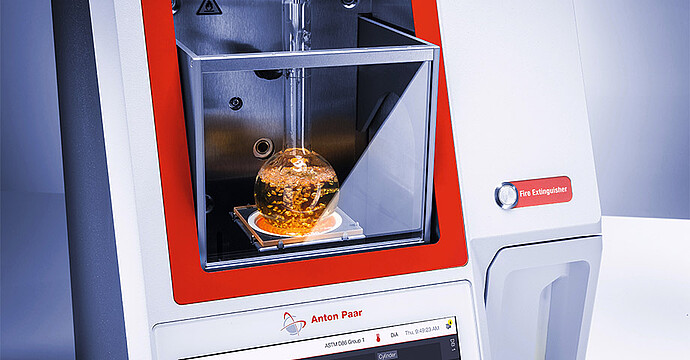 Efficient tempering technology
The Diana 700 distillation analyzer uses highly efficient Peltier technology, which lets it quickly switch between different distillation groups and reach all required temperatures in less than five minutes. It offers fully automated, real-time optimization for the entire distillation process. You don't need to configure sample-specific heat parameters. After distillation, the heater moves down automatically, and the flask is cooled to a safe handling temperature as quickly as possible.
Diana 300 offers multiple preconfigured test methods for sample-specific heat parameters. The "Optimize and Restart" function lets you configure test methods with optimal heat parameters for any specific sample.
Hassle-free connectivity, easy storage
With Diana 700, enjoy the benefits of connectivity, storage, and data management on a single platform. Since Diana 700 works across numerous data interfaces – network file-share via Wi-Fi, LAN, LIMS, and AP Connect, our in-house software platform – sharing information has never been easier. After each distillation, the Diana series displays concise test reports with your most important measurement results. No need to worry about storage, since one instrument can store up to 4,000 measurements, and you can transfer these with user-defined output reports. Complete your data management with featured manual and automatic export functions.
While not as powerful, Diana 300 can still store up to 200 measurements, and you can easily save all of your measurement results on a USB stick. You can also connect the instrument to an external printer.
Diana 700
Diana 300
Standard test methods
ASTM D86 (Group 0, 1, 2, 3, 4), ASTM D850, ASTM D1078, EN ISO 3405 (Group 0, 1, 2, 3, 4), IP 123, IP 195, JIS K 2254, GOST 2177, ASTM D524, ASTM D4530
ASTM D86 (Group 0, 1, 2, 3, 4), EN ISO 3405 (Group 0, 1, 2, 3, 4), IP 123, JIS K 2254, GOST 2177
Operation
User interface
10" TFT color touchscreen, solvent-proof
Heating system

Low mass/low voltage heating system with automatic positioning of heater and safety shield
Automatic initial heater settings and heater regulation
Cooling fan to quickly reach safe handling temperature after test

Low mass/low voltage heating system with manual positioning of heater and safety shield
Preprogrammed initial heater settings in test methods

Condenser system

Liquid-free cooling with Peltier technology
Temperature range: 0 °C to 80 °C, resolution: 0.1 °C

Receiving chamber

Liquid-free cooling with Peltier technology
Temperature range: 0 °C to 80 °C, resolution: 0.1 °C
Corrosion-proof
Automated reduced VOC emission

Vapor temperature
Pt100, class A (metal or glass)

Temperature range: 0 °C to 450 °C, resolution: 0.1 °C
Integrated calibration memory with 20 calibration points and automatic read-out (ID detection)
Automatic correction by barometric pressure

Pt100, class A (glass)

Temperature range: 0 °C to 450 °C, resolution: 0.1 °C
Automatic correction by barometric pressure

Sample volume
Optical static detection system with contact image sensor (CIS) technology

Sample volume scan before test start to measure initial volume (converted to 100 %, if necessary)
Residue scan in receiving chamber with automatic calculation of loss
Volume range: 0 mL to 103.5 mL, resolution: 0.01 mL
Accuracy: ±0.1 mL

Volume range: 0 mL to 100 mL, resolution: 0.01 mL
Accuracy: ±0.1 mL

Ambient pressure
Built-in pressure sensor, range: 30 kPa to 110 kPa, resolution: 0.1 kPa
Ambient humidity
Built-in humidity sensor, range: 0 % to 95 % (rel. humidity)
Ambient temperature
Built-in temperature sensor, temperature range: -20 °C to +80 °C, resolution: 0.1 °C
Status light
Yes
No
Test results
>4000
200
User defined test methods
>200
15
Safety
Fire extinguisher

Built-in fire extinguisher with IR sensor for fire detection
Connection of 4 bar to 6 bar CO2 or N2

Condition monitoring system
Detection of flask size, flask support board, vapor temperature sensor, heater shield, heater lift, condenser cleaning, receiving chamber door, receiving cylinder, drip plate, detection if fire extinguishing gas is connected
Detection of vapor temperature sensor, receiving chamber door, receiving cylinder, drip plate
Operating Requirements
Temperature
10 °C to 35 °C
Relative humidity
10 % to 80 % relative humidity at 35 °C
Voltage
100 V to 240 V, 50/60 Hz
Total power
900 W
Altitude
0 m to 5000 m
Dimensions and Weight
Dimensions
approx. 406 mm × 525 mm × 645 mm (W × D × H)
Weight
approx. 40 kg
Further Features
Connectivity
1 × Ethernet, 4 × USB, Bluetooth, Wi-Fi, AP Connect, LIMS
2 × USB
Automatic calculation
Cetane index, driveability index
Accessories
Dry point sensor, 200 mL flask, bar code reader, printer, receipt printer, keyboard, various certified reference materials (CRM)
bar code reader, printer, receipt printer, keyboard, various certified reference materials (CRM)
Anton Paar Certified Service
The Anton Paar quality in service and support:
More than 350 manufacturer-certified technical experts worldwide
Qualified support in your local language
Protection for your investment throughout its lifecycle
3-year warranty
Learn more
Consumables, Accessories & Software
Consumables, Accessories & Software
Software
Software
Not all items are purchasable online in specific countries.
To find out if you can purchase online from your location, check the online availability below.
Online price only
|

excl.

incl.

0

VAT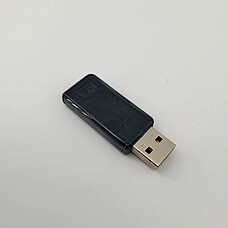 WIFI/BLUETOOTH DONGLE
Compatible with:
Diana 700
Delivery time:
%1$s – %2$s working days
%1$s – %2$s weeks
%1$s – %2$s months
Part number: 194727