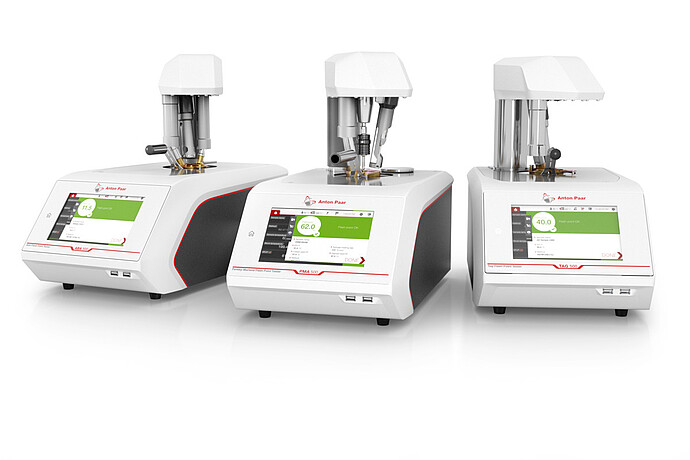 Flash Point
Innovation in flash point testing
At which temperatures will your sample burn, ignite, or cause fire? How are your flammable liquids composed, and what are their properties? Volatility is directly related to a substance's flash point temperature (flammability).
Anton Paar's flash point testing equipment safely and easily determines the values you require for the processing, storage, transportation, and classification of dangerous liquids.
Get in touch
The flash and fire points you need
The following methods will provide you with the information you need about the temperature at which a sample will ignite or burn.
Abel closed-cup flash point tester: ISO 13736, IP 170, IP 492, ISO 1523, EN 924, ISO 1516, DIN 51755-1
Tag closed-cup flash point tester: ASTM D56, FTM 791-1101, ASTM D3941, IP 492, JIS K2265-1, ISO 1523, EN 924, ISO 1516
Pensky-Martens closed-cup flash point tester: ASTM D93, ISO 2719, IP 34
Cleveland open-cup flash and fire point tester: ASTM D92, ISO 2592, JIS K2265-4, IP 36, AASHTO T48, FTM 791-1103, GOST 4333
The best flash point tester for every task
Whether you are interested in the flash point of biodiesel and biodiesel-blended fuels, diesel, heating oil, kerosene, lubricants, bituminous materials, solvents, chemicals, or other potentially flammable liquids, Anton Paar has the most suitable flash point measuring equipment for you. This includes closed-cup, open-cup, standardized, and small-volume cup testers with cups made of brass or stainless steel. Count on it: Your application is covered.
Supervised gas ignition
Our instruments feature two ignition systems: both, a gas igniter and an electric igniter are available. When testing with a gas ignition the electric igniter will automatically light up the gas igniter flame and relight it if blown off during the test. Also, with the electric ignition only, many instruments can be used without a gas supply.
Design meets functionality
Modern design and a positive user experience go hand-in-hand with our flash point testers, as do excellent repeatability and reproducibility. The instruments' small footprint saves valuable space in your laboratory. The entire portfolio combines innovative technologies with Anton Paar's broad experience in this field to produce flash point testers which meet your requirements and exceed your expectations.
The highest safety standard as a prerequisite of Anton Paar
We only use selected superior-quality components to ensure that our instruments are robust and safe. The design of Anton Paar's flash point testers includes numerous active and passive safety features to protect the operator, the surroundings, and the instrument itself in all potential situations.
We offer you a great and constantly growing choice of live webinars and recordings on products, applications, and scientific topics.
View webinars