This is a required field.
Invalid
Part number
Error in validation!
Cone-plate measuring system with integrated Peltier temperature device:

PTD 100 Cone-Plate
For small sample volumes from 0.5 mL to 2 mL
Upgrades ViscoQC 100 and 300 to a cone-plate viscometer
Two in one: Cone-plate and Peltier temperature device combined
Automated gap setting process
Magnetic coupling, Toolmaster™ feature, and temperature probe as standard
Looking for consumables & accessories for this product?
Click here
Premium configuration for cone-plate measurement with error-eliminating, time-saving features: PTD 100 Cone-Plate is an accessory for ViscoQC 100 and 300 that transforms your standard rotational viscometer into a cone-plate viscometer to determine the absolute viscosity of fluids with small sample volumes down to 0.5 mL. The built-in Peltier temperature device offers a wide, precise temperature range from 0 °C to 100 °C and is fully controlled via the ViscoQC display. Magnetic coupling, in combination with the unique ToolmasterTM feature, saves operators up to 25 seconds per measurement and eliminates errors. And the fully automated gap setting is unique for instruments in this price class.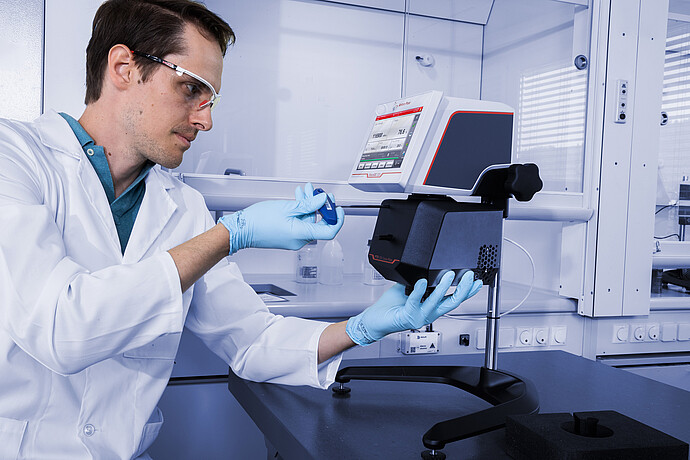 Upgrade to a cone-plate viscometer anytime
Upgrade your ViscoQC 100/300 with Anton Paar's PTD 100 Cone-Plate accessory anytime, anywhere, in less than a minute
Use your existing ViscoQC and upgrade with the PTD 100 Cone-Plate accessory when a cone-plate setup is required; easily remove the accessory when a measurement with typical L/RH spindles is required
Expand ViscoQC's testing capabilities with minimal investment. Save costs with ViscoQC's cone-plate accessory, as no extra viscometer is required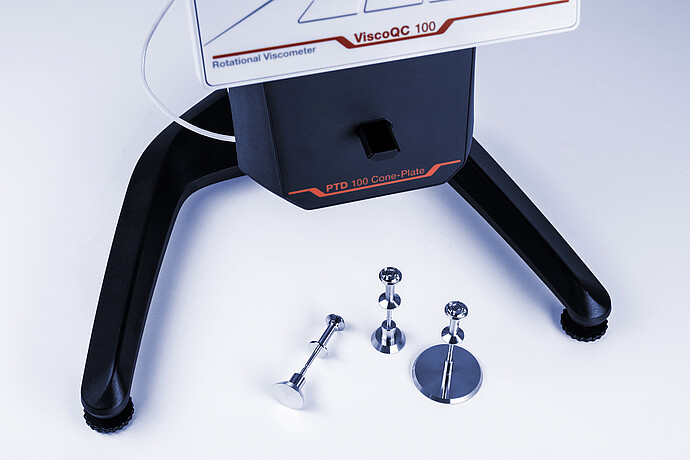 Full traceability
Fully automated electronic gap setting eliminates manual handling and frees up operator, while Continuous monitoring of the correctly set gap prevents inaccurate measurements
Spindles (made of stainless steel AISI 316L) with magnetic coupling and ToolmasterTM as standard save you up to 25 seconds per measurement and eliminate operator errors since spindles are automatically detected by Toolmaster™
Perfect alignment of the PTD 100 Cone-Plate via built-in digital leveling of ViscoQC. Continuous monitoring of the alignment status: no more faulty measurements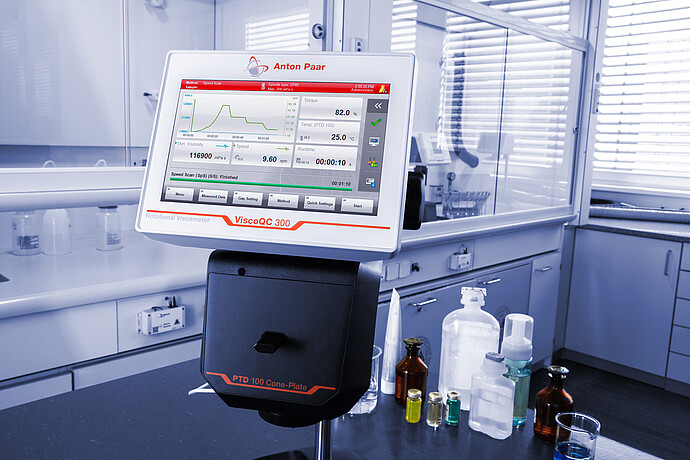 Full Peltier temperature control
Small footprint: no additional space on your lab bench
No bath and thermostat fluid required: less maintenance
Embedded temperature probe (Pt100) reliably monitors sample temperature, improves repeatability, and thereby saves costs
Conveniently control both temperature and test via the ViscoQC user interface
What you set is what you get: No need for artificial temperature inflation to compensate for temperature loss from recirculation thermostat to sample
Sensor-ready signals when sample has reached set temperature
Technical specifications
ViscoQC 100
ViscoQC 300
Torque model
L
R
H
L
R
H
Viscosity measurement
Single-point
Multi-point
Speed [rpm]
0.1 rpm to 200 rpm
0.01 rpm to 250 rpm
Accuracy
±1.0 % of full-scale range
Repeatability
±0.2 %
Temperature range [°C]
0 °C to 100 °C
Measuring systems
Cone-Plate: CP40, CP41, CP42, CP51, CP52
Spindle
Volume [mL]
Shear ratea [s-1]
Viscosity range [mPa.s or cP]
CP40
0.5 mL
7.50 * N
0.2 to 3 K
1.6 to 33.1 K
13.2 to 264.8 K
0.1 to 31 K
1.3 to 331 K
10.6 to 2.6 M
CP41
2.0 mL
2.00 * N
0.6 to 11.6 K
6.2 to 123.9 K
50 to 991.1 K
0.5 to 116.1 K
5 to 1.2 M
40 to 9.9 M
CP42
1.0 mL
3.84 * N
0.3 to 6 K
3.2 to 64.7 K
26 to 517.6 K
0.2 to 60.6 K
2.6 to 647 K
21 to 5.1 M
CP51
0.5 mL
3.84 * N
2.4 to 48.5 K
26 to 517.7 K
207 to 4.1 M
1.9 to 485.2 K
21 to 5.1 M
166 to 41.4 M
CP52
0.5 mL
2.00 * N
4.6 to 92.8 K
50 to 991.1 K
396 to 7.9 M
3.7 to 928.9 K
40 to 9.9 M
317 to 79.2 M
a Example shear rate calculation for CP40: 7.50 x 10 rpm = 75.0 s-1
K = thousand, M = million, N = rpm
Anton Paar Certified Service
The Anton Paar quality in service and support:
More than 350 manufacturer-certified technical experts worldwide
Qualified support in your local language
Protection for your investment throughout its lifecycle
3-year warranty
Learn more