This is a required field.
Invalid
Part number
Error in validation!
Cryostat accessory for autosorb iQ:

CryoSync
+1
Wide temperature range (82 K to >115 K)
Precise temperature control (temp. stability < ±0.005 K S.D.)
Perfect for argon isotherm measurements without using liquid argon or for multi-isotherm heat of adsorption experiments
Runs for over 50 hours without refilling
Looking for consumables & accessories for this product?
Click here
The CryoSync accessory for autosorb iQ analyzers allows users to generate precise <0.005 K isothermal sorption measurements in a wide range of cryogenic temperatures (82 K to >115 K) while using readily available liquid nitrogen as the cryogen. With this compact accessory you can perform advanced sorption measurements with ease, including argon isotherms at 87.3 K and multi-isotherm heat of adsorption measurements.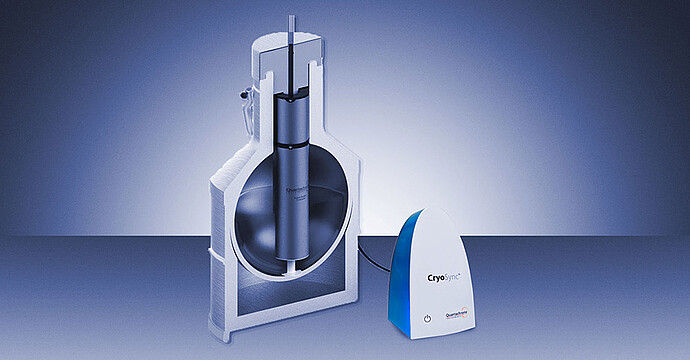 Affordable and compact cryogenic measurements
Using a simple drop-in-dewar design and making use of readily available liquid nitrogen, the CryoSync gives you access to a wide range of cryogenic analysis temperatures (82 K to >115 K) without costly and space-consuming refrigeration units.
Precise temperature control and long analysis duration
With temperature stability better than ±0.005 K (S.D.), the CryoSync greatly outperforms cryogenic baths which degrade with extended use and fluctuate with ambient pressure changes. And it lasts over 50 hours at 87.3 K without the need to refill the liquid nitrogen.
Temperature range:
82 K to 115 K nominal with liquid N 2
Temperature stability:
Better than ±0.005 K (s.d.)
Sample cells:
One per Cryocooler accessory
Analysis duration:
Over 50 hours at 87.3 K without refilling Dewar
Dimensions
(exluding Dewar and cap):

Height: 280 mm (11 inches)
Width: 55 mm (2.5 inches)
Depth: 55 mm (2.5 inches)
Weight: 0.7 kg (1.5 pounds)

Controller

Height: 170 mm (7 inches)
Width: 95 mm (3.5 inches)
Depth: 100 mm (4 inches)
Weight: 0.9 kg (2 pounds)

Electrical:

100 V to 240 V
50 Hz to 60 Hz
Max. 30 W
Grounded, single-phase supply

Ambient:

15 °C to 35 °C operating range
20 % to 90 % relative humidity
Anton Paar Certified Service
The Anton Paar quality in service and support:
More than 350 manufacturer-certified technical experts worldwide
Qualified support in your local language
Protection for your investment throughout its lifecycle
3-year warranty
Learn more
Consumables
Consumables
Not all items are purchasable online in specific countries.
To find out if you can purchase online from your location, check the online availability below.
Online price only
|

excl.

incl.

0

VAT