This is a required field.
Invalid
Part number
Error in validation!
pH measuring module:

pH 3101 / pH 3201
+3
Optimized for pH analysis in beverage analyzing systems
Simultaneous analysis of pH, along with other quality parameters
Fully guided adjustment and calibration procedures
Looking for consumables & accessories for this product?
Click here
The pH 3101 and pH 3201 measuring modules – integrated in a beverage analyzing system or Packaged Beverage Analyzer – enable simultaneous determination of pH value and other quality parameters. Versatile configurations allow pH measurements at pressures of up to 6 bar in a variety of liquids from all types of beverages to chemicals. Integration into Anton Paar's modular measurement solutions streamlines analysis and increases productivity in your laboratory analysis – all relevant results are delivered in 3 to 4 minutes only.
The pH value is an important parameter for the production of a variety of products from food and beverages, such as beer, to chemical substances. Verifying the pH value ensures consistency in various production steps, making it crucial for quality control.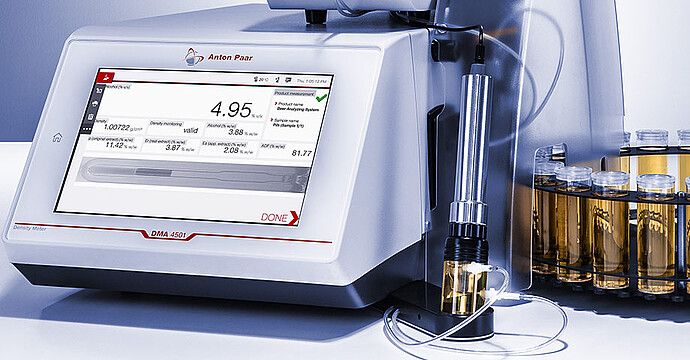 Obtain the pH value automatically along with other parameters
The modular setup enables analysis of the pH value and various other quality parameters in one measuring cycle. All values are on one screen – in one report. No need for separate sample preparation and filling. The time saving in daily quality checks is enormous.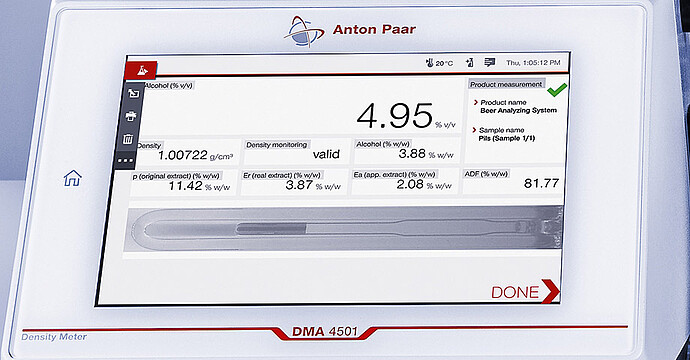 Master instrument guides through workflow adjustment
Forget challenging maintenance and adjustment procedures. Fully guided wizards simplify workflows and reduce time and effort for calibration and adjustment to a minimum.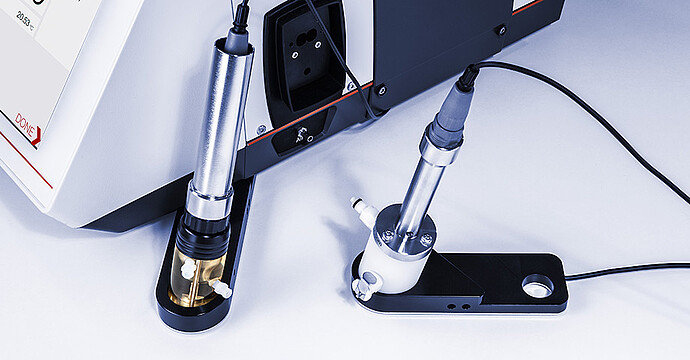 Analysis of a wide variety of samples
pH 3101 and pH 3201 cover a wide range of applications: from the analysis of the pH value in beverages to chemical samples – at pressures up to 6 bar.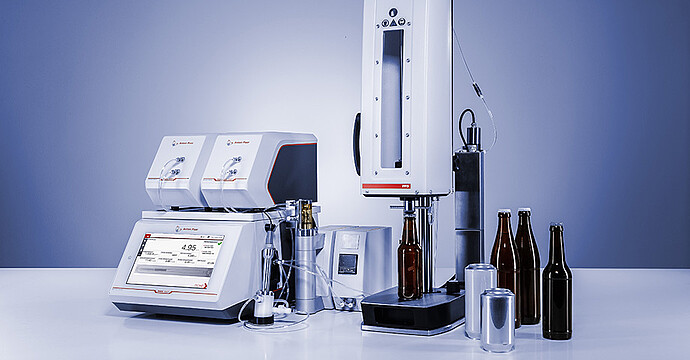 Fill sample from a package with zero CO2 influence
Integrate pH 3201 into a Packaged Beverage Analyzer, and pH values are automatically corrected for the impact of dissolved CO2, doing away with time-consuming sample preparation procedures like degassing, and eliminating user influence on the result.
Measuring range
pH
0 to 14
Repeatability s.d.
pH
0.02 (in the range pH 3 to 7)
Additional information
Sample volume
approx. 6 mL
Dimensions
(L x W x H)
150 mm x 70 mm x 160 mm (5.9 in x 2.8 in x 6.3 in)
Weight
approx. 0.5 kg (1.04 lbs)
Power supply
provided by the master instrument of the respective measuring system
Anton Paar Certified Service
The Anton Paar quality in service and support:
More than 350 manufacturer-certified technical experts worldwide
Qualified support in your local language
Protection for your investment throughout its lifecycle
3-year warranty
Learn more
Consumables
Consumables
Not all items are purchasable online in specific countries.
To find out if you can purchase online from your location, check the online availability below.
Online price only
|

excl.

incl.

0

VAT