This is a required field.
Invalid
Part number
Error in validation!
Software solutions for ViscoQC:

Software
+4
Upgrade your stand-alone ViscoQC 300
Follow your measurement data live
Programmable with up to 50 steps for more sophisticated tests
For easy analysis of test data, e.g. yield stress, gel time, pot life
Looking for consumables & accessories for this product?
Click here
Add additional software functionality to your ViscoQC 300, integrate it into your network via the Laboratory Information Management System (LIMS), included free of charge for each ViscoQC 300 delivery, and automate your data export. How? By upgrading with up to two software packages, V-Curve and/or V-Comply. Want a centralized data management solution on top? Go for Anton Paar's new lab execution software AP Connect, with additional pharma features ensuring compliance with FDA 21 CFR Part 11.
Or simply want to collect your viscosity data automatically after each measurement on your PC? The V-Collect software for ViscoQC 100/300 is also included free of charge in each instrument delivery.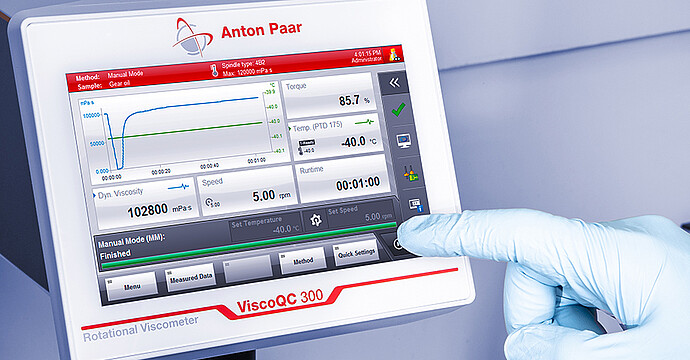 ViscoQC 300 grows with your lab needs
Upgrade your stand-alone rotational viscometer anytime, anywhere; there is no PC required. The software package V-Curve adds: live measurement data in a graph, programmability of up to 50 steps, mathematical models (IPC Paste, Power Law, Bingham, Herschel-Bulkley, Casson, NCA/CMA Casson, shear thinning index, thixotropy breakdown coefficient, statistics, unique best fit feature functionality), and additional methods depending on the accessory attached. Pot life/gel time determination has never been so easy – the sample preparation time can be included as a separate step.
Rotational viscometer for highly secure pharmaceutical applications
The V-Comply package is delivered with Anton Paar's unique Pharma Qualification Package and fulfills the requirements of GMP 4 Annex 11 & 15, GAMP 5, and FDA 21 CFR Part 11. It adds functionalities to ViscoQC 300 such as audit trail, electronic signature, and special modes (advanced data integrity, virtual network connectivity, value visibility, non-storage). Thanks to the automatic spindle detection, methods can be restricted to the unique spindle identity to eliminate the risk of a wrong spindle selection. Increased security functions (password complexity, restriction of users after 1 to 10 failed log-in attempts etc.) deliver top operational safety.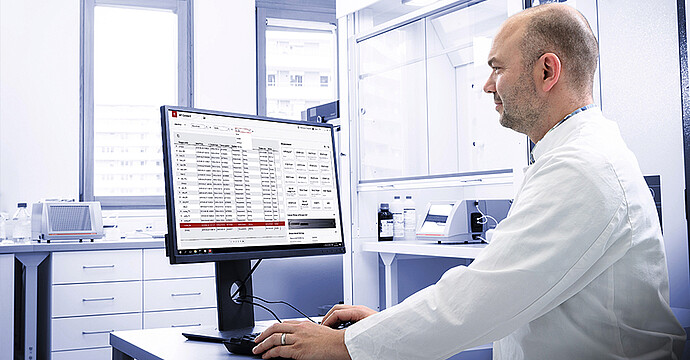 Automate viscosity data collection
Each ViscoQC 300 is delivered with LIMS Bridge software which allows for automatic method selection and data export to your local network/PC via Ethernet connection. With the optionally available lab execution software AP Connect, your data flow can be digitalized from your lab instruments to your data management system. AP Connect saves you an enormous amount of time: It handles all your data with high levels of data security, placing it right at your fingertips, and it's easily installable. If you want to enjoy full compliance with FDA 21 CFR Part 11 while enabling pharma-relevant software functionality on AP Connect, just activate the Pharma edition.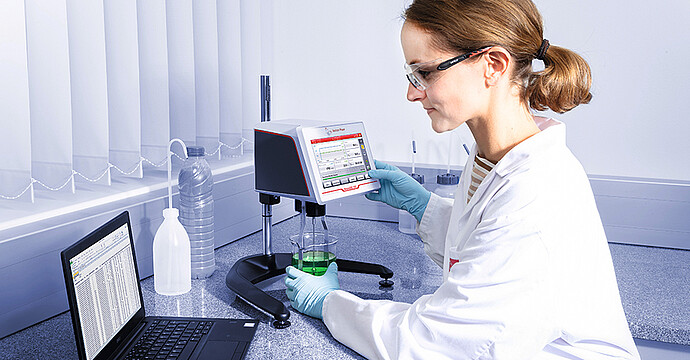 Viscosity data collection software
The V-Collect data collection software is included free of charge in every ViscoQC 100/300 delivery. Install the software on your PC, connect ViscoQC, and rest assured that each measurement data is automatically exported after a test is finished. All data is then available in an .xls file, ready for further analysis or graphical illustration.
| | | |
| --- | --- | --- |
| | ViscoQC 100 | ViscoQC 300 |
| V-Curve | | ✓ On stand-alone instrument |
| V-Comply | | ✓ On stand-alone instrument |
| LIMS Bridge* | | ✓ Requires network/PC, and Ethernet connection |
| AP Connect** | | ✓ Requires network/PC, and Ethernet connection |
| V-Collect* | ✓ Requires network/PC, and USB connection | ✓ Requires network/PC, and USB connection |
*Free of charge included in instrument delivery
** Start edition included free of charge, standard edition available as 60 days demo trial license, pharma edition for full compliance with FDA 21 CFR Part 11
Anton Paar Certified Service
The Anton Paar quality in service and support:
More than 350 manufacturer-certified technical experts worldwide
Qualified support in your local language
Protection for your investment throughout its lifecycle
3-year warranty
Learn more