This is a required field.
Invalid
Part number
Error in validation!
ISO 17034-certified reference material:

Density standards
+6
Market-leading uncertainty of 0.015 kg/m³ (ISO 17034)
Application-specific density standards, available via webshop
Online certificate with lifetime reference values guarantee
Conformity with ISO requirements ISO 17025 and even ISO 17034
Safety glass ampoule for zero contamination
Looking for consumables & accessories for this product?
Click here
Each digital density meter – no matter the manufacturer – may be exposed to conditions that influence its measuring accuracy in the long term. But if you regularly calibrate your instrument with a standard specified as 3x better than the instrument, your measurements will always be as accurate as they were on the very first day.
Rely on our unique combination of minimal measuring uncertainty – built on reference to our hydrostatic balance – and continuous monitoring via ISO 17034 accreditation. This ensures your measurements are always of the highest quality.
The quality of your density measurements determines the quality of your final products. After we've initially measured our density standards via hydrostatic balance, they're ready to underpin your calibration work. Retention samples remain on our shelves for remeasurement every three months. Continuous proof-of-specification takes the form of an online certificate, ready for download anytime. This means, our density standards are manufactured, stored and tested according to ISO 17025 and even ISO 17034 requirements.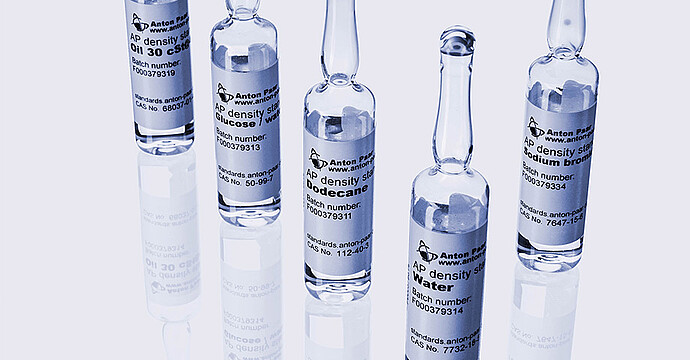 ISO 17034-certified reference materials
Anton Paar is an internationally acknowledged reference material producer. Accreditation to ISO 17034 is legal proof that our density standards are traceable to the International System of Units (SI) and comply with the rigorous requirements of that quality system. Our reference material laboratory works independently and impartially, and it's regularly audited by Akkreditierung Austria, the Austrian accreditation body. ISO 17034 requirements always include those of ISO 17025: Our certified reference materials for density conform to both ISO standards.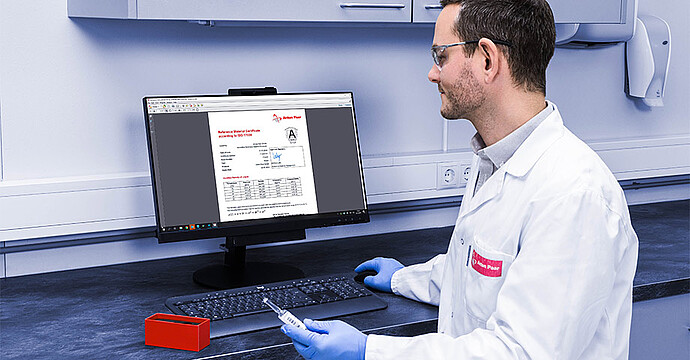 Online certificate and reference values with lifetime guarantee
Continuous stability monitoring after product release is mandatory for any ISO 17034 reference material. In contrast to standards that are only ISO 17025 certified – and therefore just assumed to be stable, without long-term proof – each batch of our standards is measured once every three months throughout its complete lifetime, so the stated density is continuously monitored and guaranteed. Rest assured that our digital, online certificates are always up to date – we keep testing the standards for you. All paperwork is stored safely with no effort at your end, and you're informed directly in case of discrepancies.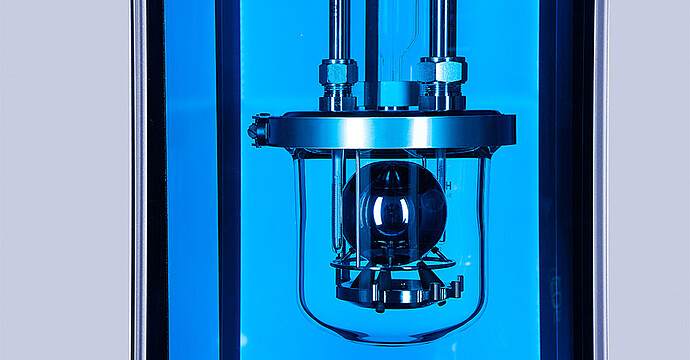 Low measurement uncertainty, traced to the primary method
Good instruments deserve well-specified standards. In measuring our density standards via the primary method – hydrostatic weighing – we guarantee the highest possible accuracy. In fact, it's on the same level as national metrology institutes. In addition to the super-low uncertainty coming from the reference method (approx. 0.004 kg/m³), our standard's specified expanded uncertainty (from 0.015 kg/m³ to 0.03 kg/m³) also comprises homogeneity, long-term stability over lifetime, and short-term stability due to shipment. We're in a far higher league than any other available methods referred to as "reference methods" by standard providers.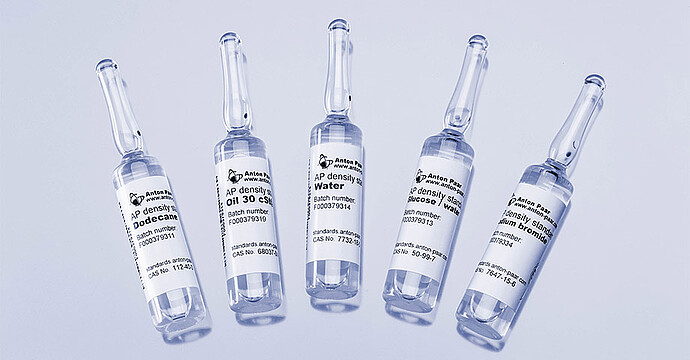 Select a density standard to suit your application
Choose from different standards – with densities from 0.75 g/cm³ to 1.25 g/cm³ – to individually represent your application. Whether organic, aqueous, or viscous, you'll find your match. For your safety and convenience to ensure the quality of your measurement, we offer only liquids that are stable, easy to handle, non-toxic, and safe. Check their validity at any time via the online certificates.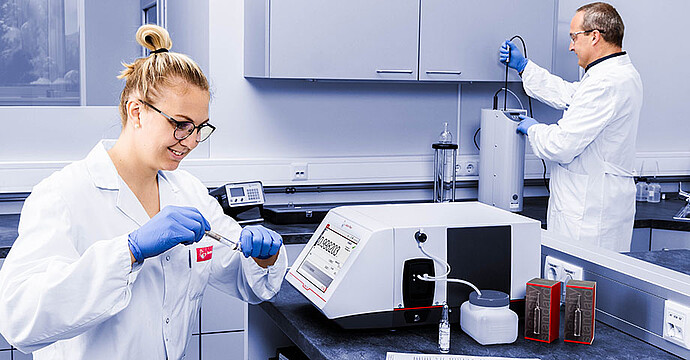 Easy click opening and zero exchange with ambient conditions
To retain the low level of uncertainty and prevent exchange with ambient conditions that could cause composition variation and quality loss, we rely on 10 mL glass ampoules dedicated for single usage. The ampoule is closed by a sealed safety-glass cap with a shatterproof breaking point. Opened at a click via a simple finger press, you can always be sure that the content exactly corresponds to the values specified on the certificate.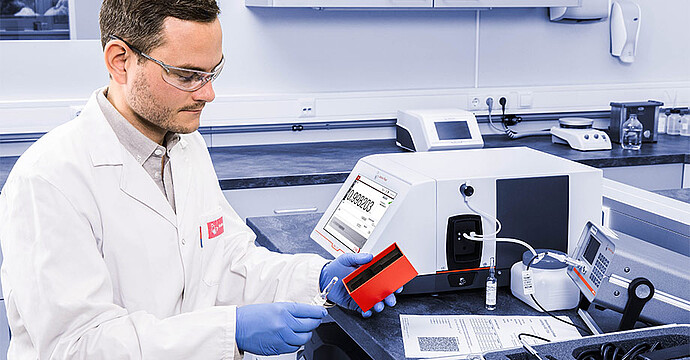 Source all density-related products from one supplier
Our customers know: We're the global masterminds of digital density measurement, leading the market for more than 50 years since we invented the first digital density meter in 1967. With our state-of-the-art weighing apparatus and ISO 17034 accreditation, we're now ready to offer you a top-notch package:
The most accurate and fastest digital density meter on the global market with a three-year standard warranty
Density reference material, available at a click, to keep the quality of your measurements as high as on the very first day
An internationally recognized ISO 17025 calibration certificate confirming accuracy and traceability
Comprehensive on-site calibration and maintenance by trained service technicians
It's a one-stop shop.
Application-Specific Selection of Density Standards
The composition, type, and density range of your ideal reference material individually corresponds to your application. Select a suitable standard from our portfolio:

You're searching for …
Dodecane
Oil 30 cSt @40°C
Water
Glucose/ Water 10 %
Sodium bromide
Easy to handle
X
X
X
X
X
Non-toxic liquid
X
X
X
X
X
Liquid with low density
X
X
Liquid with high density
X
Organic liquid
X
X
Aqueous liquid
X
X
X
Viscous liquid
X
Specifications
Approximate density at 20 °C
750 kg/m³
830 kg/m³
998 kg/m³
1040 kg/m³
1250 kg/m³
Specified temperature Range
15 °C – 50 °C
15 °C – 50 °C
15 °C – 35 °C
15 °C – 25 °C
15 °C – 25 °C
Expanded uncertainty* acc. to ISO 17034
0.015 kg/m³
0.015 kg/m³
0.015 kg/m³
0.02 kg/m³
0.03 kg/m³
Expanded uncertainty* of reference method (hydrostatic weighing)
≤0.003 kg/m³
≤0.004 kg/m³
≤0.003 kg/m³
≤0.004 kg/m³
≤0.004 kg/m³
Durability
18 months, continuously monitored
Ampoule cap
Safety-glass; sealed
Volume
10 mL
* Based on a combined standard uncertainty multiplied by a coverage factor k=2, providing a level of confidence of approx. 95 %
Anton Paar Certified Service
The Anton Paar quality in service and support:
More than 350 manufacturer-certified technical experts worldwide
Qualified support in your local language
Protection for your investment throughout its lifecycle
3-year warranty
Learn more
Reference materials
Reference materials
Not all items are purchasable online in specific countries.
To find out if you can purchase online from your location, check the online availability below.
Online price only
|

excl.

incl.

0

VAT
AP DENSITY STANDARD SODIUM BROMIDE 1x10 mL WITH ISO 17034 CERTIFICATE
Delivery time:
%1$s – %2$s working days
%1$s – %2$s weeks
%1$s – %2$s months
Part number: 242818
Product details
Density standard with high density (1250 kg/m3)
Aqueous liquid
Measuring uncertainty: 0.03 kg/m³
Specified temperature range: 15 °C – 25 °C
Durability: 18 months
Volume: 10 mL
ISO 17034-certified reference material
Complies with ISO 17025 and ISO 17034 requirements