This is a required field.
Invalid
Part number
Error in validation!
Analyzing System:

Soft Drink Measuring System 3001
+5
Production monitoring from (diet) syrup to finished beverages
Simultaneous determination of %Diet, °Brix, and pH
6x quicker results than with conventional methods
Automated measurement eliminates operator influence
Guided diet adjustments let anyone manage QC of diet products
Looking for consumables & accessories for this product?
Click here
Soft Drink Measuring System 3001
Contact
Our Soft Drink Measuring System monitors the production of your regular and diet drinks from syrup to the finished product. The analyzing system determines °Brix and %Diet concentration and can be upgraded with different types of sample changers for automated filling and cleaning. Obtain precise results for exact dilution ratio setting, track and eliminate variations in your production, and achieve consistency in every batch.
Analyze your entire portfolio of soft drinks and ready-to-drink beverages
Monitor your entire production process
Analyze all kinds of (diet) syrups and final beverages
Safeguard final product quality and eliminate out-of-spec production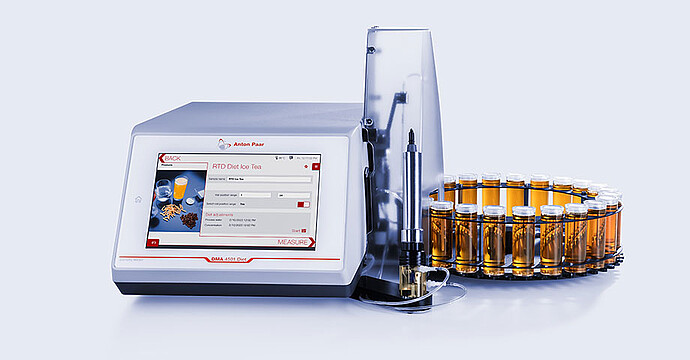 Optimize your measurement processes with automation
Conduct automated measurements with a Xsample 520 sample changer, which fills up to 24 samples in a row
Ensure accurate results without operator influence
Free up lab capacities for other tasks – once started, the system does its job without user interaction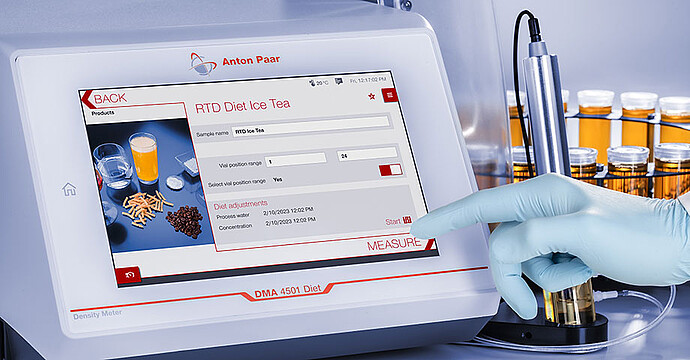 Get 6x quicker results than with conventional methods
Determine %Diet concentration, °Brix, and pH at the same time
Reduce diet reference analysis time by 75 %
Obtain reproducible results with a minimum of reference measurements with our patented Pulsed Excitation Method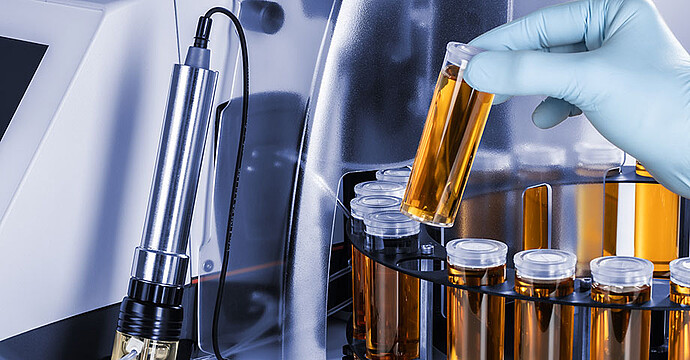 Make QC easier with intuitive software
Conduct QC without special training due to a software-guided adjustment procedure
Ensure accurate results with FillingCheck™, an automatic bubble-detection feature, and U-ViewTM, which provides visual inspection of the density measuring cell via high-resolution camera
Manage your data with AP Connect, our lab execution software
Soft Drink Measuring System 3001
Measuring range
Density
0 g/cm³ to 3 g/cm³
Temperature
20 °C (68 °F)
Concentration sugar actual
0 °Brix to 80 °Brix
%Diet concentration
0 % Diet to 200 % Diet
or 0 mL NaOH to 200 mL NaOH
or 0 g/L TA to 200 g/L TA
or 10 ppm Alkalinity to 10,000 ppm Alkalinity
or 0 mg/mL H3PO4 to 600 mg/100 mL H3PO4
pH
pH 0 to pH 14
Repeatability s.d.
Density
0.000005 g/cm³
Temperature
0.01 °C (0.02 °F)
Concentration sugar actual
0.01 °Brix
%Diet concentration
0.5 %Diet
pH
0.02 (in the range pH 3 to pH 7)
General informatoin
Power features
U-View™, FillingCheck™, ThermoBalance™, full-range viscosity, correction, ultra-fast measuring mode, condition monitoring
Minimum amount of sample
30 mL of degassed soft drink
40 mL of syrup
Typical measuring time per sample
3 minutes (6 minutes for %Diet analysis)
Typical sample throughput
10 to 20 samples per hour, depending on system configuration
Display
10,1" TFT WXGA (1280 x 800 px), PCAP-Touchscreen
Controls
Touchscreen, optional keyboard, mouse, and bar code reader
Internal storage
Up to 10,000 measuring values with camera images
Power supply
AC 100 to 240 V, 50/60 Hz, fluctuation ±10 %, 190 VA
Communication interfaces
5 x USB, Ethernet, CAN, RS232
Dimensions (L x W x H)
526 mm x 710 mm x 360 mm (20.7 in x 28 in x 14.2 in)
Weight
Approx. 34 kg (75 lbs)
Environmental conditions
(EN 61010) Indoor use only
Ambient temperature
15 °C to 35 °C (59 °F to 95 °F)
Air humidity
Non-condensing
20 °C, <90 % relative humidity
25 °C, <60 % relative humidity
30 °C, <45 % relative humidity
Anton Paar Certified Service
The Anton Paar quality in service and support:
More than 350 manufacturer-certified technical experts worldwide
Qualified support in your local language
Protection for your investment throughout its lifecycle
3-year warranty
Learn more
Software
Software
Software
Software
Not all items are purchasable online in specific countries.
To find out if you can purchase online from your location, check the online availability below.
Online price only
|

excl.

incl.

0

VAT