This is a required field.
Invalid
Part number
Error in validation!
Micro Flow Cell for Abbemat 450/650 Heavy Duty
Looking for consumables & accessories for this product?
Click here
Micro Flow Cell for Abbemat 450/650 Heavy Duty
Contact
The micro flow cell allows for measurements of small sample volumes.
For small volumes of sample
The micro flow cell features two Luer connectors that allow convenient filling with a syringe.
With the micro flow cell, only a few microliters of sample are required for a measurement.
Samples are easily recovered by suction using the same syringe as for filling.
The micro flow cell prevents the sample or solvent from evaporating during the measurement.
Cleaning between single measurements is not required. The next sample flushes out the previous one. For cleaning the micro flow cell can either be flushed by a suitable solvent or cleaning agent, or can easily be disassembled for access to the measuring prism if it needs to be cleaned manually.
If the tube connectors are connected to a peristaltic pump the sample can be automatically fed to the micro flow cell, e.g. for monitoring the reaction in a batch reactor.
Your exposure to toxic or poisonous samples is minimized when using the micro flow cell.
The micro flow cell is ideal for automated or combined systems, e.g. when using an Xsample 122 sample changer or the optional built-in peristaltic pump.
With the micro flow cell the Abbemat is easily adapted to automated systems like the Anton Paar Modulyzer.
Anton Paar Certified Service
The Anton Paar quality in service and support:
More than 350 manufacturer-certified technical experts worldwide
Qualified support in your local language
Protection for your investment throughout its lifecycle
3-year warranty
Learn more
Consumables
Consumables
Not all items are purchasable online in specific countries.
To find out if you can purchase online from your location, check the online availability below.
Online price only
|

excl.

incl.

0

VAT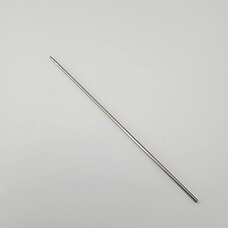 XSAMPLE FILLING TUBE
Delivery time:
%1$s – %2$s working days
%1$s – %2$s weeks
%1$s – %2$s months
Part number: 67394