We've combined decades of knowledge with groundbreaking innovation to make Ultrapyc the most user-friendly semi-solid and solid density meter on the market. Our Ultrapyc 5000 gas pycnometer measures the density of different samples no matter how challenging they are. With its wide variety of measurement settings, different-sized measuring cells, and optional disposable cups, Ultrapyc 5000 provides high-accuracy results and ease of use for any manufacturing and quality control processes.
For how you can use Ultrapyc for a range of applications, including food, personal care, paint, asphalt, and adhesives, check out the videos below.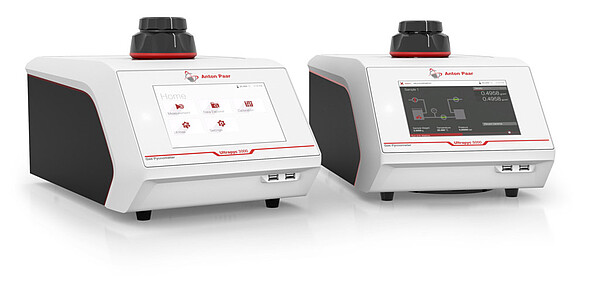 The Ultrapyc gas pycnometer measures the density of solid and semi-solid materials. Measurements take less than 10 minutes, making Ultrapyc perfect for controlling the quality of your samples throughout the manufacturing process by tracking purity, porosity or formulation consistency.
Ultrapyc is designed with a wide variety of samples in mind. Use any of the provided sample cells and the instrument automatically selects the appropriate reference chamber to ensure accurate results . The PowderProtect mode eliminates the possibility of contaminating your instrument with fine powders or slurry vapors. The built-in Peltier temperature control with a range of 15 °C to 50 °C eliminates the need for external water baths.
Whether it's pasty, lumpy, sticky, or chunky samples, food manufacturers have to measure the density of challenging samples: Our Ultrapyc 5000 analyzes all kinds of semi-solid materials and viscous samples.
Toothpastes, shampoos, lotions, sunscreens, lipsticks – personal care products we can't live without. They're often oily, waxy, and slick, but they're no problem for the Ultrapyc 5000 density analyzer.
A range of applications use adhesives to seal, glue, or bond two or more surfaces together, including home repairs, arts and crafts, retail packaging, woodworking, and electronics manufacturing. Ultrapyc 5000 measures the density of adhesives – liquids, soft gels, or pastes – with ease.
Road construction, pavement coating, roof repair – they all require heavy-duty binding material made of high-molecular-weight hydrocarbons. Ultrapyc 5000 measures the density of asphalt, bitumen, pitch, or any other petroleum-based viscous and sticky material
While pigments help create the beautiful colors that surround us, they're also the some of the most expensive components in paint formulations. Ultrapyc 5000 measures the density of water-based paint, oil-based paint, paint primer and other difficult samples with ease. Whether the paint tends to settle, phase separate, or form syneresis, the instrument measures the volume of the whole sample to determine the density.