This is a required field.
Invalid
Part number
Error in validation!
Synthesis reactor:

Monowave 50
Conventionally heated synthesis reactor for lab experiments at a speed comparable to microwave synthesis reactors
Intuitive user interface and straightforward programming of experiments via touchscreen
Safe and robust, compact and portable
Looking for consumables & accessories for this product?
Click here
Monowave 50 is a conventionally heated synthesis reactor specially designed for teaching labs and standard experimental chemistry. Monowave 50 enables synthesis multiple times faster than traditional stirrer hot-plate setups while delivering the performance of a microwave reactor at the price of an autoclave.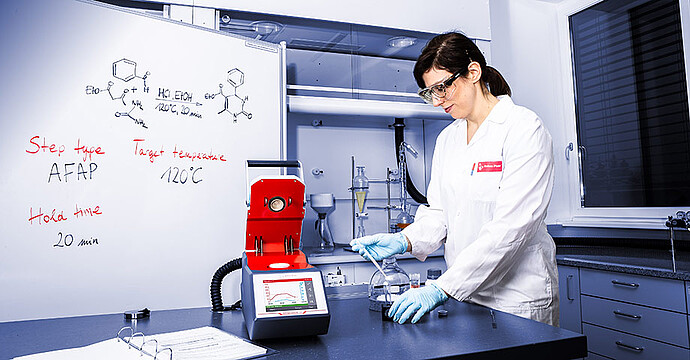 High performance, low price
Monowave 50 performs typical lab experiments at a speed comparable to microwave synthesis reactors, yielding results of equal quality (i.e. same yields and product purities) for a fraction of the price of a microwave reactor. Monowave 50 offers a simple touchscreen user interface, real-time temperature and pressure monitoring, as well as data storage and display. For representative application examples featuring Monowave 50, check out our free application database on our wiki.
Reaction vessels and caps can be used multiple times, reducing not only consumable costs but also the ecological impact.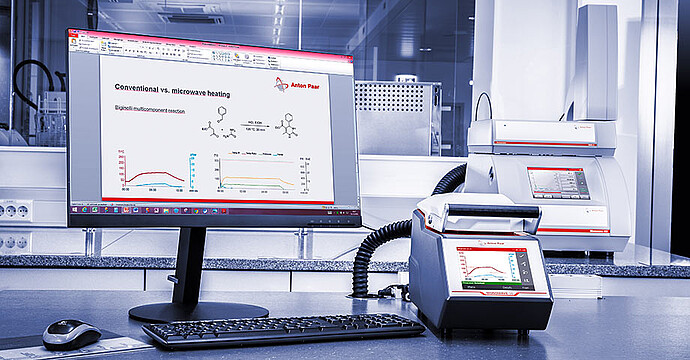 Precise results and transferable methods
Any method developed for Monowave 50 can be directly transferred to any Anton Paar microwave synthesis reactor. Likewise, reaction protocols from microwave synthesis reactors can also be applied in Monowave 50. This is made possible by continuous internal temperature monitoring in all our reactors, including Monowave 50. Thanks to our protocol converter, a reflux experiment can be converted into a high-speed, closed-vessel reaction with a few clicks.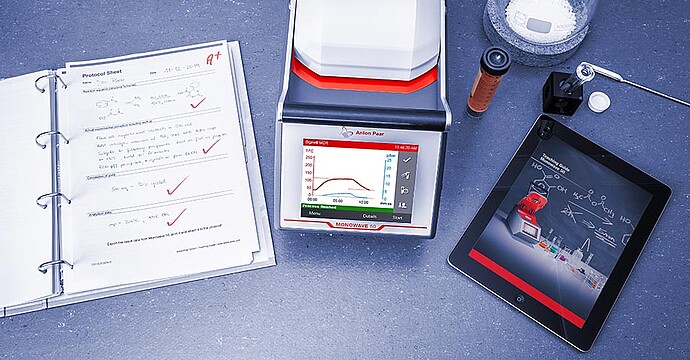 Easy to use
Monowave 50 is made for the smartphone generation. Intuitive user interface and straightforward programming of experiments via the touchscreen reduce the fear of an unknown subject for students. The software is designed to avoid out-of-spec reaction protocols meaning that no supervision during programming experiments is needed. Methods and experimental data can be downloaded from the instrument via USB.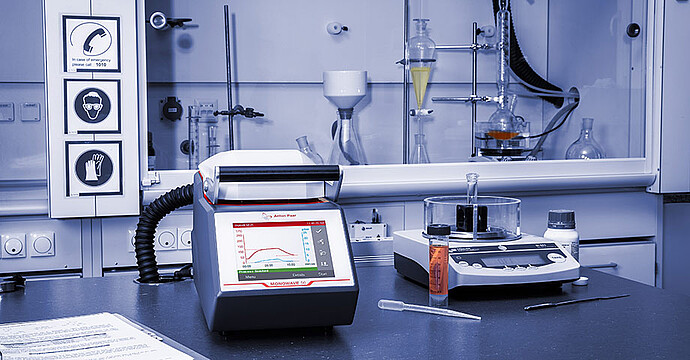 Safe and robust
At the start of each experiment, Monowave 50 mechanically locks the cavity to avoid accidental opening while the reaction vessel is pressurized. Reaction temperature and pressure are continuously monitored, and the device automatically shuts down if the operational limits (20 bar and 250 °C) are exceeded. At the end of each experiment, overpressure is safely released.
The reaction vessel is protected by a stainless steel jacket so if a vessel rupture occurs the user is safe at all times. Cleaning takes just a few minutes, minimizing downtime.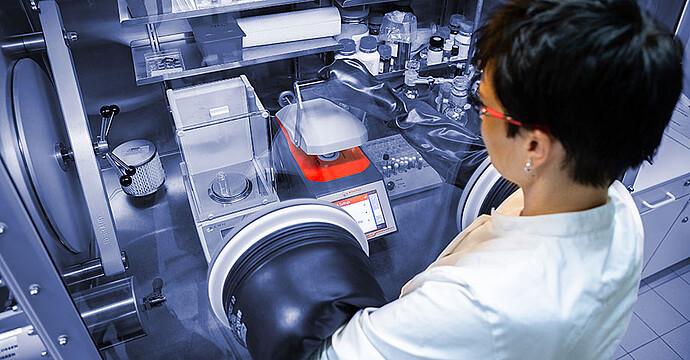 Small and portable
With 8.5 kg and a footprint of 20 cm x 40 cm, Monowave 50 requires minimal bench space and can even fit into a backpack for safe, easy transport. Unlike standard laboratory glassware setups, Monowave 50 can be operated outside a fume cupboard. The only installation requirements are a plug and availability of an exhaust. With plug-and-play installation, the instrument can be running in less than five minutes. This makes the device ideal for laboratories where experiments need to be set up quickly, and lab space or equipment is shared between different courses. The instrument can even be placed inside a glove box.
Each chemist should have the modern and easy handling Monowave 50 reactor in the laboratory.

Mr. Prof. Thierry Besson, University of Rouen, France

Sealed tube chemistry has never been easier and safer than with this device.

Mr. Prof. Dr. C. Oliver Kappe, University of Graz, Austria
| | |
| --- | --- |
| Max. filling volume | 6 mL |
| Max. operation pressure | 20 bar (290 psi) |
| Max. temperature | 250 °C |
| Max. power | 315 W |
| Vial material | Borosilicate glass |
| Cap material | Silicone |
| Seal material | PTFE |
Anton Paar Certified Service
The Anton Paar quality in service and support:
More than 350 manufacturer-certified technical experts worldwide
Qualified support in your local language
Protection for your investment throughout its lifecycle
3-year warranty
Learn more
Consumables
Consumables
Not all items are purchasable online in specific countries.
To find out if you can purchase online from your location, check the online availability below.
Online price only
|

excl.

incl.

0

VAT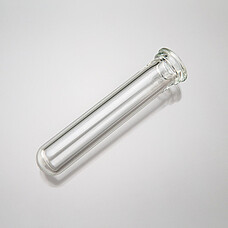 REACTION VIAL G10 (100 PCS.)
Delivery time:
%1$s – %2$s working days
%1$s – %2$s weeks
%1$s – %2$s months
Part number: 82724
Product details
Box containing 100 Pcs 10 mL reaction vials made of borosilicate glass, operation volume 2-6 mL. Note: caps, septa, and stir bars not included Glass and quartz parts as well as complete reaction vessels are not covered by standard warranty due to the dependence on the handling by the user.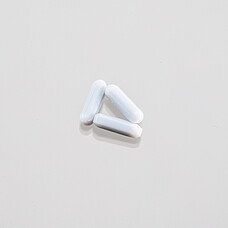 STIR BAR PTFE D = 3, L = 10 (10 PCS.)
Delivery time:
%1$s – %2$s working days
%1$s – %2$s weeks
%1$s – %2$s months
Part number: 89088
Product details
Package of 10 pcs. cylindrical PTFE coated stir bars for use with reacti vials G10, G30 and MG5.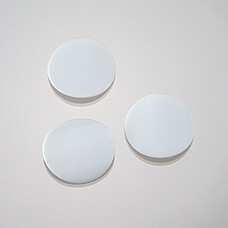 PTFE SEPTUM D = 22 MM (50 PCS)
Delivery time:
%1$s – %2$s working days
%1$s – %2$s weeks
%1$s – %2$s months
Part number: 161732
Product details
Package of 50 pcs. disposable PTFE septa for tight sealing of reaction v G4, G10, G30, and C10 in combination with PTFE disk. For use as an alternative to standard Silicone Septa in long term reactions or with chemicals reducing the stability of silicone.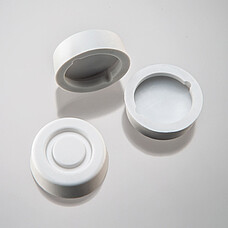 SILICONE CAP INCL. PTFE SEPTUM (50 PCS.)
Delivery time:
%1$s – %2$s working days
%1$s – %2$s weeks
%1$s – %2$s months
Part number: 168261
Product details
Package of 50 pcs. silicone caps with integrated PTFE septum for easy closure of reaction vial G10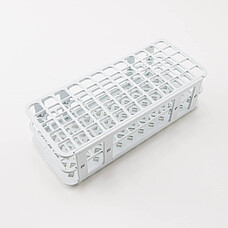 RACK 40
Delivery time:
%1$s – %2$s working days
%1$s – %2$s weeks
%1$s – %2$s months
Part number: 89296
Product details
Plastic rack with 40 positions for proper storage of reaction vials G10. (Vessels not included.)