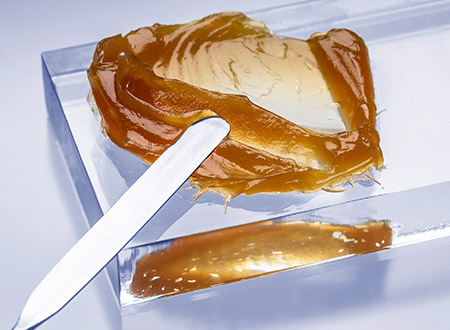 Lubricants and waxes
Complete analysis of lubricants and waxes
Oils, greases or dry lubricants are used to minimize friction and wear in mechanical systems. Paraffin and petroleum waxes are used in countless applications, from industrial molding to candle-making. To analyze and determine composition, performance, quality, and processability of lubricants and waxes, Anton Paar offers a wide range of solutions to characterize properties such as density, viscosity, refractive index, demulsibility, and shear stability. Other measuring methods to improve product quality are foam testing, friction and wear testing (under diverse environmental conditions), and penetration testing.
Get in touch
Lubes and viscosity
The viscosity of a lubricant is one of its most important physical properties. It can be influenced with various additives in order to achieve the correct viscosity value. The lubricant should form a protective film but not cause excessive energy losses within the film. Anton Paar viscometers determine the viscosity index (VI) to examine the viscosity change relative to temperature changes. Besides additives, lubricants consist of base oils. Their quality is also best specified by means of the VI. Anton Paar viscometers allow for reliable determination of both, kinematic and dynamic viscosity and additional calculation of the VI according to ASTM, EN, and ISO standards with just one filling. In addition, continuous real-time control with viscosity process sensors guarantees the quality of the lubricants during production.
Quality control of lubricants
Lubricating oils, cutting oils, and greases keep friction down and reduce downtimes for industrial machinery. Refractometry is one method to determine the composition of different groups of hydrocarbons contained in lubes and waxes. This gives important insights into their quality.
In lubricating oils important quality control parameters include the concentration of additives (which contain metals such as calcium, copper, magnesium, phosphorus, sulfur, and zinc) as well as metals like silicon, boron, potassium, vanadium, and lead resulting from wear. Modern sample preparation methods according to ASTM, such as microwave-assisted acid digestion, are required to determine the metal content for subsequent analysis, using analytical techniques such as ICP-MS and ICP-OES with low determination limits.
For high-throughput requirements Anton Paar offers turnkey and customized automation solutions fitting the needs of lubricants testing and complying with ASTM standards.
Reducing friction and wear
The development of customized lubricant additives, the process of combining them, and the corresponding interaction processes are very challenging tasks. Tribological measurements provide information about the entire system, including the mating surfaces, the lubricant as well as the surrounding conditions. Anton Paar tribometers measure the performance of lubricants at different contact pressures, sliding speeds, temperatures, and relative humidity. The lube formulation can then be modified until it is suitable for its specific purpose.
Resistance to foam formation
A lubricant's ability to resist foaming is crucial. The formation of stable foam increases the surface area of the oil which is exposed to small bubbles of air, thus favoring oxidation. The foam can also cause loss of oil from a system by overflow or prevent the lubricant from effectively providing protection against metal to metal contact. A careful choice of type and amount of defoaming additives provides the correct balance of foam protection and air release properties. With an Anton Paar foam tester, you determine a lubricant's ability to resist foam formation and dissipate foam quickly.
Analysis of waxes
Anton Paar density meters and viscometers effortlessly measure heavy samples such as waxes and grease in order to determine the right consistency. Refractometers provide correct identification and concentration measurements of raw, intermediate, and final products, such as vaseline or wax. Additionally, Anton Paar offers thermo-optical-based refractometers that allow the investigation of the melting and crystallization behavior of waxes as well as the differentiation of crystal modifications. The stability and thus durability of, for example, Polyethylene Wax (PE wax) is checked with Anton Paar's oxidation stability tester. For measuring the basic property 'consistency', a sophisticated penetrometer with automated surface detection is available.
We offer you a great and constantly growing choice of live webinars and recordings on products, applications, and scientific topics.
View webinars