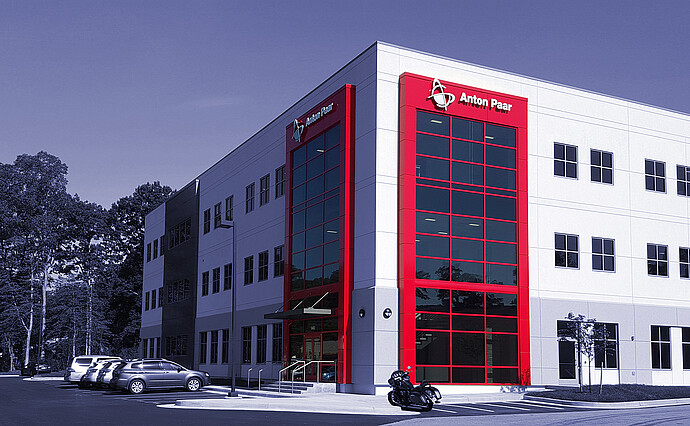 Working abroad – When adventure is calling …
2021-12-06

| Corporate
Working at Anton Paar opens up many opportunities, including working abroad. Julia Strasser and Norbert Ponweiser took this chance, and both have now been working in the United States for several years. In this interview, they talk about how they ended up overseas, the experiences they had, and why they recommend this step to others.

Hello Julia and Norbert. Could you tell us a little bit about yourselves? Where are you from and how did you end up with Anton Paar USA?
Julia: My name is Julia Strasser, I come from Upper Austria. I have been working at Anton Paar since 2018. Actually, I applied for an expat position in Asia. However, I was then offered a position at Anton Paar USA and of course I couldn't say "no." Shortly after I started, I took over the position as Sales Manager of Distributors for THE AMERICAS region and I still am in that role today.
Norbert: Hello, my name is Norbert Ponweiser and I come from a small town south of Vienna. After my studies, I started working for Anton Paar in Graz in the international sales department. At that time, I already knew that I would also be working abroad in this position, which is why it excited me even more. Today, I am Sales Manager for the Business Unit Characterization in the Central Region of the USA.

Why did you decide to go to the USA? And above all, why did you stay?
Norbert: Well, I needed a job (laughs). No, it worked out well for me. I wanted to take another job abroad after working for Anton Paar Ltd. In Great Britain. The job in the U.S. sounded like an exciting challenge in the right setting. And that's exactly what happened. Going abroad with the help of a company like Anton Paar is simply minimal risk with maximum experience. The beginning is easy thanks to the support from the company and the local colleagues. Maybe I will move somewhere else at some point, but at the moment I feel very comfortable.
Julia: I can confirm that. I've always enjoyed traveling – life abroad is special and a bit of an adventure. In addition, my job offers a lot of variety. In this position I often visit South America, which I enjoy as well.

You do not work at the same location. Julia, you work just north of Richmond, Virginia, and Norbert, you are in Chicago, Illinois. How different are the regions, and do you like where you are?
Julia: I think it is great. I like the many hours of sunshine. It is pleasant outdoors until the evening, so you can sit outside in restaurants a little longer. The location is great, you can get to the ocean, Washington, DC, or the mountains in an hour and a half, and there are many parks in Richmond, too.
Norbert: What I like about Chicago is that, despite the big city, it's not as hectic and noisy as, let's say, New York. Winter can be tough, and your car radio might even freeze up. But the summer is beautiful. Chicago is located right by Lake Michigan, and I started kiteboarding, which is great fun. In addition, Chicago has quite good public transportation and excellent restaurants.

Let's move from pleasure to business - what is it like working in the States?
Norbert: What I really like is the flexibility. Especially when it comes to working hours. In Austria, for example, you have to follow precise guidelines, whereas in the U.S. you have more freedom. In addition, you pay less in taxes for the work you do. In general, I think there is this "hands-on" mentality here and the motivation to get everything done. Nothing is impossible.
Julia: I totally agree with Norbert. But you should be aware that the labor law is not the same as you might know it in Europe. There are also fewer vacation days and public holidays than in Austria, but if you organize yourself a bit, it is not a problem.

What advice would you give to people thinking about going abroad?
Norbert: I can only recommend it to everyone. You learn so much – even the most banal things are just much more interesting and much more enriching when it's somewhere else. Just shopping or going to the pharmacy is incredibly exciting, apart from all the things you can experience away from everyday life. And if you realize that you are not enjoying it, then you also learn to appreciate your home much more.
Julia: I do believe that tolerance, open-mindedness, and the interest in getting involved with other cultures are all incredibly important. You should invest time in getting to know people - your own colleagues on site, but also people outside the office. With Anton Paar, you just have a great opportunity to experience something new.

What do interested people have to do to work at another subsidiary like Anton Paar USA?
Norbert: The company helps tremendously with the formalities such as visa and similar processes, so what is needed above all is interest and that little bit of courage to take this step.
Julia: At Anton Paar USA, we are of course also happy to welcome new, inquisitive, and interested colleagues. Almost anyone can apply. I believe that we can find the right role for everyone. We are looking forward to all those who would like to join us.