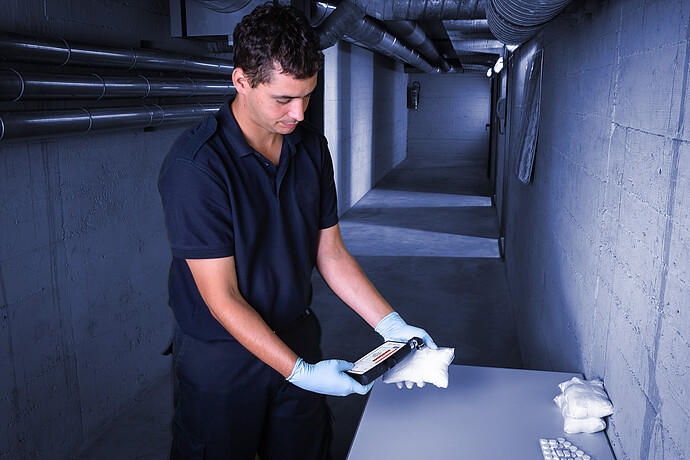 On search for traces with Anton Paar
2019-07-18

| Corporate
Holiday season is traveling season. Therefore long traffic jams and airports crowded with tourists looking forward to getting away and relaxing are unavoidable. A long waiting time at the border control is sure one of the most annoying things which can happen to a tourist. So it's up to the customs officials to work as accurately and quickly as possible. Anton Paar's Cora 100 makes this possible.
See, measure, act
You might consider the smartphone sized instrument rather inconspicuous at first glance, but in fact it can save lives. It identifies dangerous materials such as drugs, explosives or chemical weapons within seconds. The instrument can also recognize life threatening situations, e.g. leaking of hazardous substances at an accident. Cora 100 measures and identifies up to 16,000 substances as quickly as lightning. And there are regularly added more substances to the special library about drugs, explosives and chemical weapons. "Additionally this intelligent tool is able to give us information about the substances hazard potential and its handling. This enables the emergency personnel to act quicker and more efficiently in dangerous situations", Alexander Kadenkin, product manager at Anton Paar OptoTec, explains.
Contactless
Cora 100 is able to measure through transparent plastic bags or glass so that dangerous substances can stay sealed securely. The instrument can be placed anywhere on the sample and measure without any contact. It is also ideal in the examination of potential explosive substances as the contactless measurement can be combined with the integrated timer.
X-rayed
The technology beyond is an optical measurement technology: laser light is sent to the sample, the majority of the light is scattered – so it changes its direction but not its wavelength. Only a fraction of light is not only changing its direction but also its colour when it hits the inspected material. This interaction process is called Raman effect. A Raman spectrum is as specific as a fingerprint and reflects the chemical bonds within the material. Raman spectroscopy enables the analysis of chemical compositions and the proof of changes within a sample.