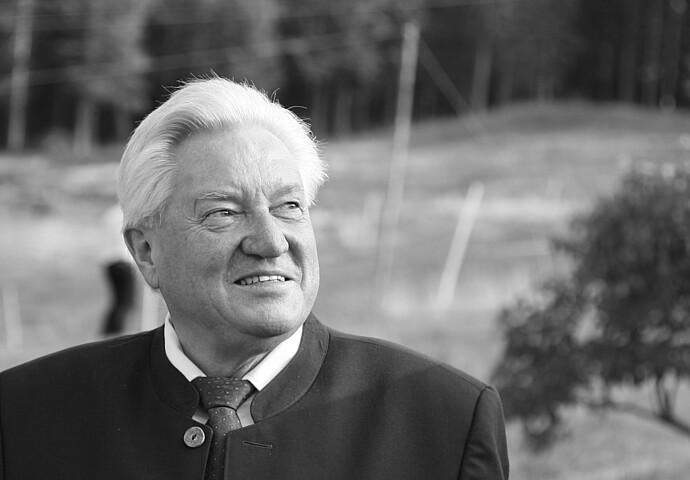 In memory of Ulrich Santner
2020-02-20

| Corporate
August 27, 1932 – February 13, 2020
It has been 57 years already since Ulrich Santner took over the management of the company Anton Paar. There are some employees still working at the company who used to work with him. Those employees as well as family members are telling stories about him – especially now that he is gone. These stories are fascinating, they are touching, and they make even those colleagues laugh who did not get the chance to know him.
One conclusion can be drawn from all those stories and that is the fact that Ulrich Santner was an optimistic person. Far-sighted and modest. A person who was cherished for his appreciative and respectful treatment of employees. For some he was even more than "just" the manager – for many he was a mentor and fatherly friend who shared his passion for technology and science with others.
Because of this passion, the close cooperation with universities as well as research institutes, and the aspiration to constantly develop the company further, he laid the foundation for the world-renowned measuring technology specialist that Anton Paar is today.
This is why it is no surprise at all that he received numerous awards for his untiring creativity and efforts: Entrepreneur of the Year, Honorary Senator of Graz University of Technology, and an entrepreneurial lifetime achievement award from the Styrian economy in 2002. During the time Ulrich Santner went to school in the Lungau region or later when he attended Admont monastery secondary school, he probably did not expect to receive these honors.
After graduating in industrial engineering and first steps in professional life he gained valuable experiences abroad from 1957 to 1959 when he was a research assistant at Purdue University in Indiana (USA) and graduated as a "Master of Science in Industrial Engineering".
In 1959, Ulrich married Margaretha – a marriage that brought both of them great happiness and seven children: six daughters and one son. It was a side-effect of this love story that Ulrich Santner developed a growing interest for the company of his wife's grandfather, which he took over after the founder's death and managed for 39 years.
In 2002, Ulrich Santner handed management over to his son-in-law Friedrich Santner, but he continued to be active for the company as member of the Supervisory Board for almost 15 years and for many years also as a Member of the Board of Directors of the charitable Santner Foundation. To stop being industrious overnight would have been unimaginable for him.
Ulrich Santner will live on through his spirit which can still be felt in the company, through the stories every one of us will remember, and through his family who will honor his legacy.
Dear Ulli, we will miss you but we will forever hold you in grateful and loving memory. Rest in peace.