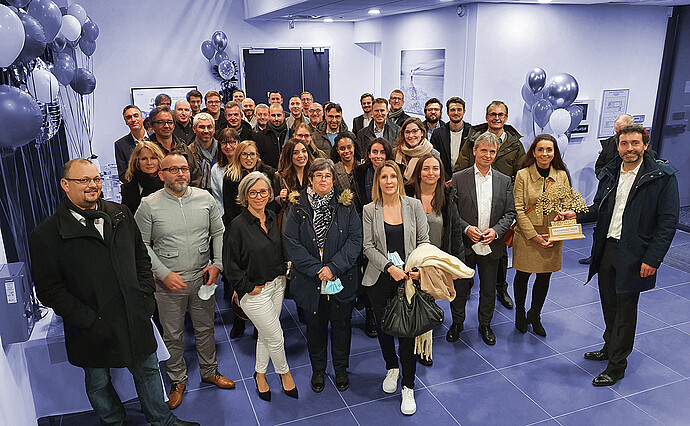 Happy Birthday Anton Paar France
2021-12-21

| Corporate
The history of the French subsidiary began in 2001, when Pascal Gilloen founded two new subsidiaries together with Friedrich Santner: Anton Paar France and Anton Paar Benelux.
Right from the start, AP France was located in the Paris suburb of Les Ulis. In the early years, three people worked at the young sales subsidiary - together they covered the entire country of France. In 2007, AP France - which had already grown to 17 employees by then - rented new premises covering 700 m², including a workshop for customer service and a laboratory.
A few years ago, the sales subsidiary purchased a property. In 2018, the new building was officially opened. Meanwhile, 47 employees work on 1,400 square meters. "Our new location is very modern, well suited for Anton Paar. We are very proud of it," says Katia Berkane, who has been with the company since 2007.
Anniversary celebration in the heart of Paris
Of course, a 20th anniversary needs to be celebrated properly. The ceremony started at the company site in Les Ulis with speeches by Friedrich Santner and AP France General Manager Loïc Thomas. Afterwards, the team headed to the center of Paris, where the company's 20th anniversary was celebrated on a ship. While the ship cruised along the Seine, AP France employees were able to admire the impressive sights of Paris. The gala dinner not far from the Eiffel Tower, as well as various entertainment such as a magic show and accompanying music, created a great atmosphere.
Regional Coordinator EMEA Viktoria Wahrlich also congratulated, "We thank Loïc Thomas and Katia Berkane for organizing this wonderful event and congratulate the whole team on 20 successful years of Anton Paar France! We look forward to the next 20 years and more!"