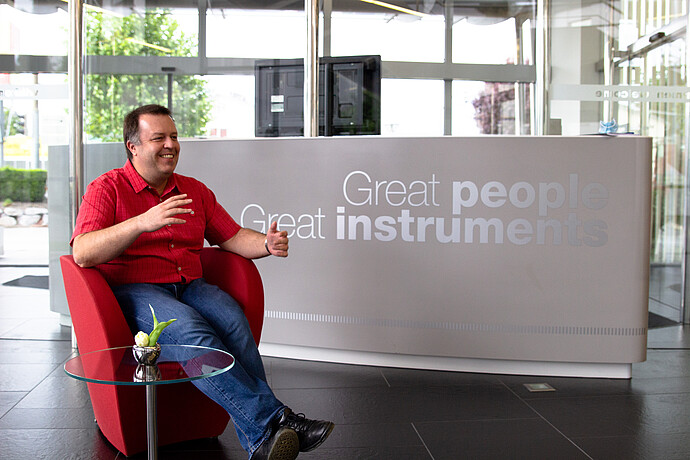 Careers at Anton Paar – a portrait of Michael Gruber
2020-05-29

| Corporate
Michael Gruber has been part of Anton Paar since May this year. As Division Manager of Research & Development he is in charge of a key area of the company. His career path has been a classic one: compulsory school, graduation, career entry, career ladder, management. But maybe not that classic, considering he almost became a carpenter. Or a farmer. In the interview the 48-year-old talks about diversity, challenges and future plans.
Michael, you have only been at Anton Paar for a short time, but in a responsible position from the very beginning. How did you end up here?
I have spent my entire career at the same company. After a few years I realized I wanted to do something different. I received a suggestion from friends that there was a position for me at Anton Paar and finally applied. And it was just right from the start, from the very first job interview. In addition, Anton Paar is an Austrian family business with a culture that I really appreciate and a technology that fascinates me.
What has your career path looked like so far?
After completing the HTL with focus on control engineering, I started working as a software developer in a Styrian company and took over project management after seven or eight years. Again a few years later, I switched over to – as I like to call it – the dark side of the force and worked in sales and built up the project planning department, before joining management in 2011, when I took over responsibility for the implementation area. In 2018 I went to North Carolina in the USA and managed an IT group because someone dropped out at short notice. I was there for about a year and looking for a successor.
Shortly after that I realized that I wanted to get to know a new company.
Sounds like a classic career path. Is this how you imagined it?
No, not at all. After secondary school I originally wanted to do an apprenticeship as a carpenter. But my teacher urged me to attend HTL because she thought school was the right thing for me. So I did my ninth year at HTL and just stayed afterwards. Today, I am happy about this. If things had gone differently, I probably would have taken over my parents' farm at some point. That actually appealed to me, because I always thought that a farmer is also an entrepreneur.
Do you already have plans for your new position?
At the moment I am still busy getting to know the technologies around measurement that are new to me.
In the future, we will focus strongly on the individual product areas and support them as a service provider in the development. For this purpose, we will develop basic components in hardware and software and offer corresponding services. Also Future Sensor Technologies will be a central topic, as it is important for the company's future. And let's not forget process optimization: I have a lot of experience in project management which I can utilize here.
One of my major goals is to further develop Anton Paar in the IT area and perhaps also accompany it in direction of digitalization – I still see potential there.
What is the best thing about your new job?
The diversity! This is also one of the biggest differences to my previous job, as the subject areas were very limited and are very broad now. This is what I imagined it to be and I am really happy about it. This diversity has been one of the reasons why I wanted to change to this position.
What is the secret of your success?
People often tell me that I bring a good mixture of structure and creativity. I think this is a rare talent and this is what distinguishes my work and makes me successful.
This success is what motivates me the most, as well as when I can develop people and organizations.
Last but not least: Do you have any tips for young people aspiring to be in a management position?
You should always set yourself ambitious but not unattainable goals and pursue them consistently. Furthermore, it is always good to work hard and make sure the company is doing well, because then the company will also show its appreciation.