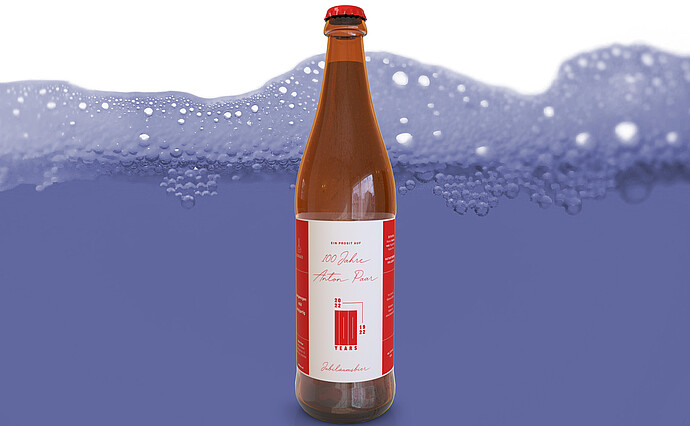 A brewmaster's thoughts
2022-01-10

| Corporate
"I was staring at a blank page, thinking about our history, which I wanted to be the base for our anniversary beer's recipe," reveals Gebhard Sauseng. For 31 years, he has been an enthusiastic employee and by now also Anton Paar's brewmaster. Again and again he combines passion and precision to create unique beer experiences for us to taste.
In honor of Anton Paar's 100-year anniversary, Gebhard went even further and created an anniversary beer, that tells the story about our company's heritage and methods:
Malt: hommage to the locksmith's shop
Locksmith Anton Paar himself worked a lot with metal, and today this material is still an essential component in the production process. 7 to 8% of it are brass and copper, which should reflect in the beer's color. The right malt mixture is key to reach it.
Regarding hops, Gebhard chose the type "Styrian Goldings" which is a true Styrian original, just like our company is.
Gravity: taste for everyone
Our 3,500 employees all over the world should like our anniversary beer – from Japan to Brazil, from South Africa to Sweden. Thus, a taste for everyone had to be created. A gravity of 11.7° Plato and an alcohol content of 5.1% vol provide this unique taste.
Bitterness: a special year
2022 is a special year in Anton Paar's history, which we also want to emphasize with our anniversary beer: 20 is its color value on the international color scale, 22 its bitter unit.
If you combine the individual components you get a drinkable beer – perfect for our anniversary celebrations. However, before it was ready for toasting, Gebhard did a number of tests. In June 2021, he brewed the first 20-liter brew kettle and tasted the beer together with a brewing friend. However, the first beer did not meet the brewmaster's high expectations.
Three months and some adaptions later, he started the next brewing attempt – and this time, Gebhard reached the desired perfection. The recipe was converted for the Sudhaus' 5-HL brewing system and the beer for our anniversary could finally be brewed.
From now on, the anniversary beer can be exclusively tasted and purchased in 0.5 liter bottles in our Sudhaus.