This is a required field.
Invalid
Part number
Error in validation!
Blending, Carbonating, and Dosing for Craft Brewers:

Flex-Blend 3000 Series
+7
Automatic, skid-mounted blending system tailored for craft producers
All-in-one package – without compromise on quality and specifications – at a top price-performance ratio
Optimized recipe management for an unlimited number of product types, which avoids product loss and ensures minimal changeover time
Looking for consumables & accessories for this product?
Click here
Without compromising on quality or specifications, Flex-Blend 3000 delivers the fastest and most precise alcohol, OE, and CO2 monitoring on the market in an all-in-one package at a top price-performance ratio.
These compact, maintenance-free carbonators and blenders offer recipe-specific calibration for optimized management of an unlimited number of product types, helping you avoid product loss and ensuring minimum changeover time. Combined with unique pre-delivery testing of the entire specifications range, they let you cover all future product and dosing choices and unleash your creativity.
Building on more than 50 years of experience working in the brewing industry, we continue to supply the highest-quality and most flexible process systems on the market.
Top price-performance ratio
Our sensors ensure continuous accurate measurements for excellent quality control
Fastest continuous measurement of concentration values on the market (one second measuring cycles) ensure rapid and precise control of ABV, OE, and CO2
All-in-one package includes Anton Paar's Beer Monitor 5600 with all sensors at an unbeatable price (approx. 30 % less expensive than buying it separately)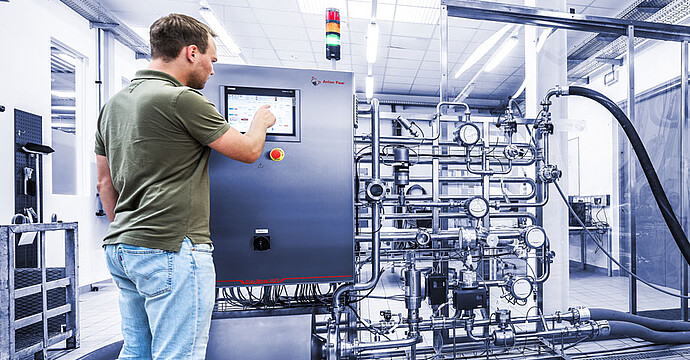 Tried-and-tested customer-specific solution and quick commissioning
Flex-Blend's Factory Acceptance Test (FAT) covers your full production spectrum and gives you the peace of mind that comes with knowing you've chosen the right supplier
Comprehensive testing in the factory guarantees minimal implementation effort and risk, giving you short production ramp up times for any systems purchased
Customers can attend FAT in person or online (via AnyDesk, Webex, etc.)
Small volume and compact footprint
Fits anywhere – even under extreme space constraints
Inline solution without tanks reduces product losses to a minimum, even for small production batches (small overall system volume of 12 liters – DN 40)
Maintenance-free design and highest technical availability
Service-friendly design and maintenance-free sensors ensure low operating costs
Flex-Blend 3000 offers remote access for service support with short reaction times at any time
Simple and powerful multi-product management
Intelligent recipe management via integrated PLC with a touchscreen simplifies your handling of multiple products and production batches
Improved batch-to-batch continuity (less than 30 seconds to produce according to specs after a batch starts) of QC parameters is based on recipe-specific management of calibration data and controller settings, which results in less waste and higher productivity
Calibrating the Flex-Blend 3000 system with reference values measured by our laboratory instrumentation (e.g., Alex 500 alcohol meter, DMA density meters, CarboQC CO2 meter) ensures no out-of-spec production
Quality assurance and tracking
Flex-Blend 3000 provides documented quality and reports per production lot without the need of a Supervisory Control and Data Acquisition (SCADA)
Davis 5 records and archives production data in a database for real-time documentation, enabling closer alignment to exact product specifications
Generates reports for in-spec production, which guarantees correct product declaration – especially for alcohol content
Products
Beer and beverages, viscosity 0.5 mPa.s to 10 mPa.s
Capacity, line diameter
DN25 / OD 1":
15 hl/h to 45 hl/h
(7 US gpm to 20 US gpm)
DN40 / OD 1.5":
40 hl/h to 110 hl/h
(18 US gpm to 48 US gpm)
DN50 / OD 2":
60 hl/h to 180 hl/h
(25 US gpm to 80 US gpm)
Blending and mixing ratios and ranges
Typically 1:1 to 1:2.5 (others available on request)
Control range CO2
2.0 g/L to 7.0 g/L, or according to customer specification
Measuring range and accuracy: CO2
0 g/L to 12 g/L / ±0.05 g/L
Measuring range and accuracy: alcohol
0 % w/w to 12 % w/w (% weight/weight) / ±0.02 % w/w
0 % w/w to 15 % v/v (% volume/volume at 20 °C / 68°F)
Measuring range and accuracy: real extract
0 °Plato to 12 °Plato / ±0.04 % w/w
Measuring range and accuracy: original extract
0 °Plato to 35 °Plato / ±0.04 % w/w
Measuring range and accuracy: O2
0 ppb to 2000 ppb
≤±1 ppb or ±3 % (the higher value is applicable)
Anton Paar Certified Service
The Anton Paar quality in service and support:
More than 350 manufacturer-certified technical experts worldwide
Qualified support in your local language
Protection for your investment throughout its lifecycle
3-year warranty
Learn more