Pressure Cell
Rheology under high pressure
Combine a pressure cell with your MCR rheometer to perform rheological tests under controlled temperature and high pressure. The cells can be used to simulate process conditions, measure the effect of pressure on rheological properties, or prevent sample evaporation above the boiling point. Typical applications are in the field of polymers, petrochemicals, oil recovery, and food processing (e.g. starch gelatinization). A wide range of different pressure cells and measuring systems ensures the best possible solution for your application.
Get in touch
Document finder
More than just standard pressure solutions
The broad portfolio combines an extensive temperature range with a unique pressure range up to 1000 bar in this class of rheometers. Two main types of pressure cells are available: with either gas- or liquid pressurization. Additionally, all pressure cells can also be used in self-pressurization mode. While low-friction ball bearings or jewel bearings are available for sensitive samples, cells made of Hastelloy ensure a high degree of resistance. Low-temperature and flow-through options are also available and customized solutions for special applications can be developed.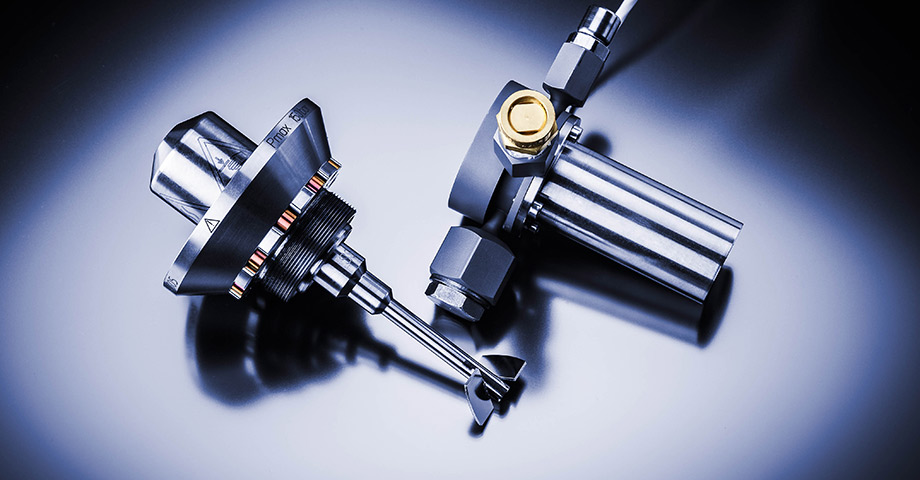 Starch Pressure Cell up to 30 bar
Starch is widely used in food manufacturing due to its nutritional importance and physical properties. It is mainly used as an additive for food processing, for example as a thickener and stabilizer due to its ability to gelatinize and paste. Additionally, it is used as an adhesive in the paper industry. The stainless steel Starch Pressure Cell prevents boiling of the starch suspension at the high temperatures which are often required to simulate processing parameters, for example for sterilization processes. The cell is usually used in self-pressurization mode but can also be combined with a gas pressure supply.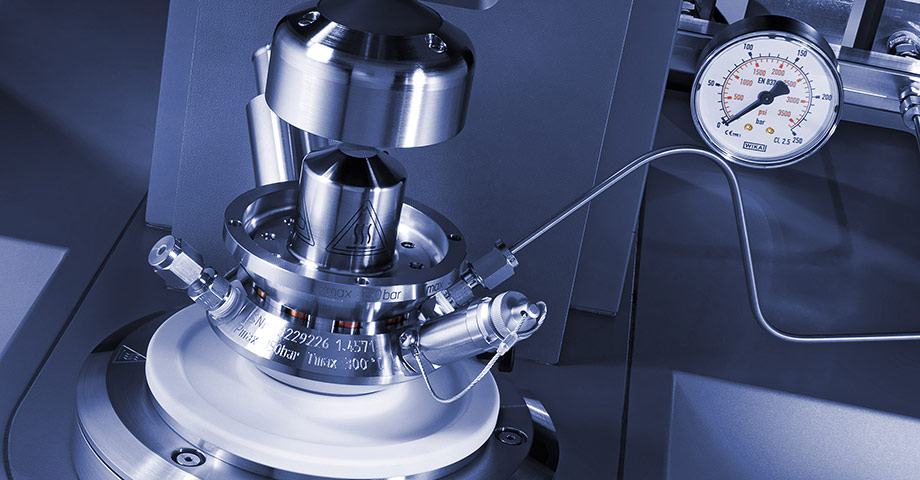 Pressure up to 400 bar (self- or gas pressurization)
The pressure cells for 150 bar (up to 300 °C, made of stainless steel) and 400 bar (up to 200 °C, made of titanium) work in self- or gas pressurization mode. Even polymer melts can be measured using the optional parallel plate geometry. A typical example is the rheological behavior of polymers under the influence of supercritical carbon dioxide. Supercritical CO2 can be used as a processing solvent in polymer applications such as polymer modification, formation, blending, and foaming. Detailed knowledge of the rheological behavior is crucial to control and guide the process. Another example is the investigation of the effect of high pressure on motor oils used for lubrication to prolong the lifetime of a modern engine.
Pressure up to 170 bar (self-, gas- or liquid pressurization)
Due to the smart design of the 170 bar pressure cell, it can be used in gas-, liquid-, self-pressurization, and flow-through mode, which makes it the optimal choice for a variety of applications. The completely filled measuring chamber prevents rod climbing of viscoelastic materials. Even highly viscoelastic materials like drilling and fracturing fluids can be pumped into the cell using the optional pressure supply unit with separator. The separator additionally facilitates the handling and measurement of critical fluids in respect to cleanability and reactivity.
Pressure up to 1000 bar (self- or liquid-pressurization)
The pressure cell for up to 1000 bar and 300 °C is designed for use with a liquid pressure supply. The completely filled measuring chamber prevents rod climbing of viscoelastic materials like drilling fluids. Extended simulations of processing conditions are enabled by the unique high pressure of 1000 bar in combination with a fully functional Dynamic Shear Rheometer (e.g. the conditions in an oil-well borehole). Even temperatures down to -30 °C are available on request. This enables investigations into the temperature-dependent crystallization processes of drilling fluid brines or the low-temperature characteristics of motor oil, for example.
| | | | | | |
| --- | --- | --- | --- | --- | --- |
| Pressure cell | Pressurization type | Bearing type | Temperature rangea | Measuring systemsb | Available materials (standard)c |
| 30 bar (Starch Pressure Cell) (435 psi) | Self- or gas pressurization | Ball bearing | 5 °C to 160 °C | Vanes | Stainless steel |
| 150 bar (2175 psi) | Self- or gas pressurization | Ball bearing | -30 °C to 300 °C | Vanes, concentric cylinder, parallel plate, double gap | Stainless steel, Hastelloy |
| 150 bar/XLd (2175 psi) | Self- or gas pressurization | Ball bearing | -10 °C to 200 °C | Vanes, concentric cylinder, parallel plate, double gap | Stainless steel, Hastelloy |
| 400 bar/XLd 5800 psi | Self- or gas pressurization | Ball bearing | -10 °C to 200 °C | Vanes, concentric cylinder, parallel plate, double gap | Titanium |
| 170 bar/XLd 2465 psi | Self-, gas- or liquid pressurization | Jewel bearing (sapphire) | 25 °C to 200 °C | Concentric cylinder, double gap | Titanium, Hastelloy |
| 1000 bar (14500 psi) | Self- or liquid pressurization | Jewel bearing (sapphire) | 25 °C to 300 °C | Concentric cylinder | Titanium |
a Lower temperatures available on request (depending on pressure cell)
b Customized systems available on request (depending on pressure cell)
c Other materials can be checked on request (depending on pressure cell)
d Cells marked with "XL" have a larger measuring system diameter
Anton Paar Certified Service
The Anton Paar quality in service and support:
More than 350 manufacturer-certified technical experts worldwide
Qualified support in your local language
Protection for your investment throughout its lifecycle
3-year warranty
Learn more