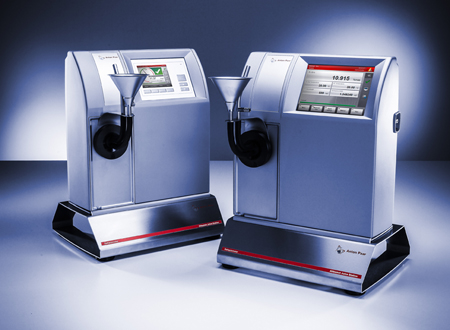 This is a required field.
Invalid
Part number
Error in validation!
Accessory for Abbemat Juice Station:


Flow cell
Online price only
|

excl.

incl.

0

VAT
The flow cell is pouring the sample into the filling funnel. This setup is ideal for quality control and routine analysis if a large number of samples of sufficient volume need to be measured.
Flow cell with filling funnel
The sample is filled conveniently into the filling funnel of the flow cell, from where it is flushed onto the measuring prism of the Abbemat
After the measurement, the next sample is flushed into the filling funnel without needing to clean in-between. The new sample flushes the previous sample out allowing convenient and fast sample exchange.
The approx. sample consumption is 20 mL to 30 mL per measurement
Anton Paar Certified Service
The Anton Paar quality in service and support:
More than 350 manufacturer-certified technical experts worldwide
Qualified support in your local language
Protection for your investment throughout its lifecycle
3-year warranty
Learn more
Consumables
Consumables
Not all items are purchasable online in specific countries.
To find out if you can purchase online from your location, check the online availability below.
Online price only
|

excl.

incl.

0

VAT
FILLING NOZZLE LUER ALCOLYZER PLUS
Delivery time:
%1$s – %2$s working days
%1$s – %2$s weeks
%1$s – %2$s months
Part number: 7046