This is a required field.
Invalid
Part number
Error in validation!
Oxidation Stability Tester:

RapidOxy 100
Fast, unique measuring principle – with maximum safety
Standard methods: ASTM D7525, ASTM D7545, and EN 16091
All-in-one system measuring gasoline and all types of diesel (B0 – B100)
Results in a fraction of the time required by traditional test methods
Simple cleaning after measurement, in less than 5 minutes
Looking for consumables & accessories for this product?
Click here
Fully-automatic measurements 8x faster than other accelerated aging methods, at temperature ranges of up to 180 °C. Easy cleaning in less than 5 min. That's the simple perfection of RapidOxy100, the only Rapid Small-Scale Oxidation Test (RSSOT) on the market. Another bonus: the small 5 mL / 4 g sample size max. – especially helpful when costly samples are being investigated.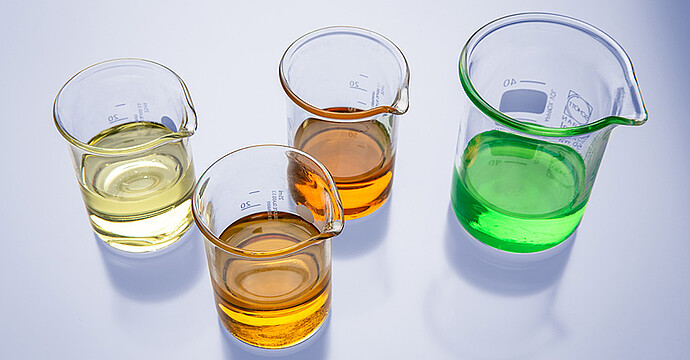 Reproducibility / Repeatability of up to 99%
Rapid Small-Scale Oxidation Test (RSSOT)
Compliance with ASTM D8206, ASTM D7545, ASTM D7525, EN 16091
Excellent reproducibility / repeatability
Small sample amounts: only 5 mL / 4 g
Broad range of measurable samples – from liquids to solids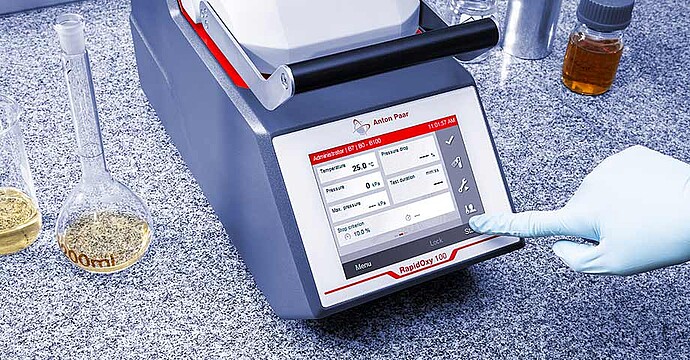 High sample throughput made easy
Results in a fraction of the time compared to other oxidation stability methods
Economical measurement: small sample volumes, no sample preparation and no use of harmful chemicals for cleaning.
Fully-automatic measurement
Fast, simple cleaning of the test chamber – only tissue paper and ethanol
Efficient cooling after measurement: Prepare for the next sample in just minutes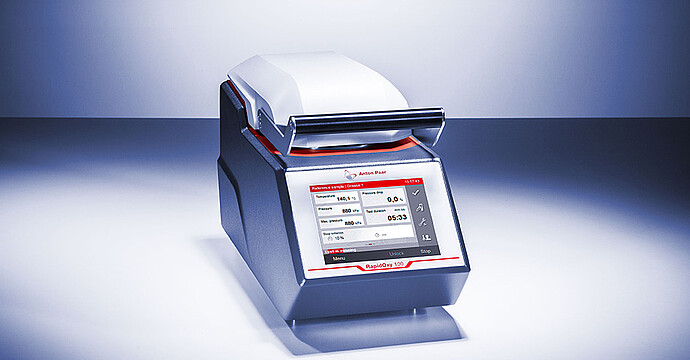 Maximum safety features
Safety hood automatically locks as soon as the measurement is started
Safety hood cannot be opened accidentally or by mistake until the measurement is finished
Automatic over-pressure and over-temperature shut-off during measurement
Safety-tested by the German Federal Institute for Materials Research and Testing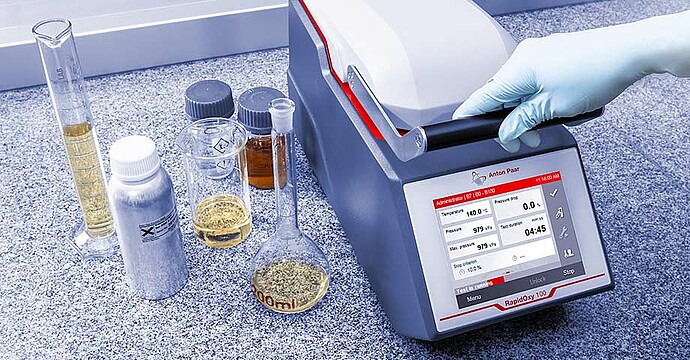 All-in-one system, unmatchable flexibility
RapidOxy 100 Fuel: Measurement of gasoline and all kinds of diesel fuels (B0 – B100), as per standard methods.
RapidOxy 100: Flexible choice of optimal measurement parameters for every investigation
Stand-alone instruments: All measurement data available live on-screen – no PC needed
RapidOxy 100
RapidOxy 100 Fuel
Standard methods
ASTM D8206
ASTM D7525, ASTM D7545, EN 16091
Sample volume
Typically 5 mL, or 4 g
5 mL
Test chamber material
Stainless steel
Gold-plated aluminum
Application range
Up to 180 °C
Re-cooling
Fan and Peltier, approximately 10 min
Pressure range
Up to 1800 kPa during measurement, filling pressure up to 700 kPa
Internal memory
100 test results, or endless mode setting
Safety
Screw cap cover, safety and insulation hood, over-temperature and over-pressure shut-off
Display
Live values for pressure, temperature, and pressure/time curve
Interface
1 × USB at the front/right side
1 × USB at the back of the instrument
1 × LAN
Power supply
AC 220 V - 240 V, 50/60 Hz AC 100 V - 120 V, 50/60 Hz
Airborne noise emission
<57 dB (A)
Dimensions
Approx. 200 mm × 400 mm × 250 mm (W × D × H)
Weight
<9 kg
Anton Paar Certified Service
The Anton Paar quality in service and support:
More than 350 manufacturer-certified technical experts worldwide
Qualified support in your local language
Protection for your investment throughout its lifecycle
3-year warranty
Learn more
Consumables & Software
Consumables & Software
Not all items are purchasable online in specific countries.
To find out if you can purchase online from your location, check the online availability below.
Online price only
|

excl.

incl.

0

VAT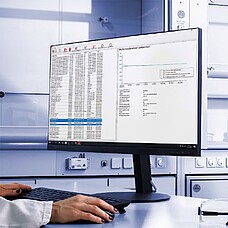 OxyLogger 100 SOFTWARE LICENSE
Compatible with:
RapidOxy 100 Standard | Fuel
Delivery time:
%1$s – %2$s working days
%1$s – %2$s weeks
%1$s – %2$s months
Part number: 257799
Product details
License for one workplace with OxyLogger 100 software.