This is a required field.
Invalid
Part number
Error in validation!
Density meter:

DMA 5000 M
360°
Measure density and concentration at 6-digit accuracy
Ideal for handling highly viscous and highly dense samples
The first choice for research, authorities, and standards organizations
Looking for consumables & accessories for this product?
Click here
With its six-digit accuracy DMA 5000 M is the most precise digital density meter you can get. The patented Pulsed Excitation Method delivers the most stable density results based on comprehensive knowledge of the oscillation characteristics. The influence of viscosity is compensated twice as effectively as ever before. It is ideal for your high-end R&D applications and sets the tone at authorities as well as standards organizations.
A revolutionary measuring principle for the most accurate density meter in the world
The unique design of the measuring cell, a novel way of evaluating the oscillation characteristics, and many other innovative features lead to the following: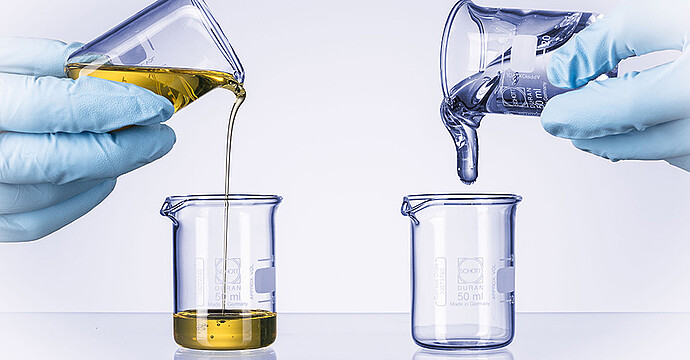 Leading viscosity correction
Automatic viscosity correction across the entire viscosity range of samples
Eliminates viscosity-related errors twice as effectively as ever before
No viscosity standards required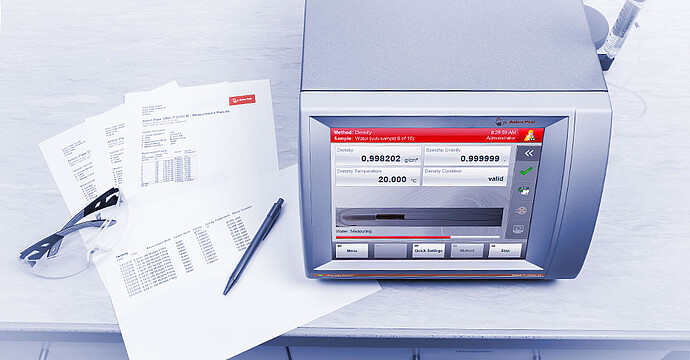 The most excellent repeatability and reproducibility
Repeatability up to the 7th digit
100 % improved reproducibility
Optimized production process due to minimized loss of sample
Unbeatable efficiency in your workflows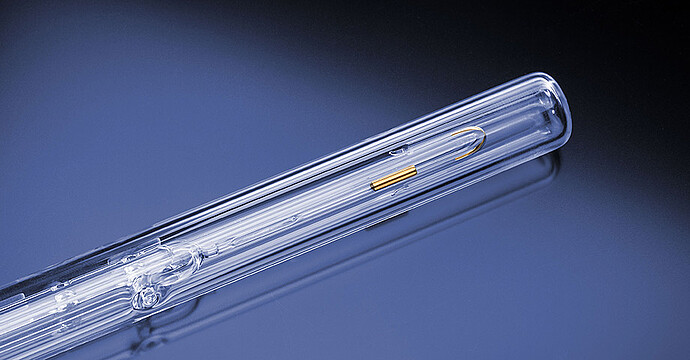 ThermoBalance™ temperature management
No temperature-related fluctuations
No temperature-related aging effects on the measuring cell
Change between temperatures quickly without drifts and rely on immediate temperature stability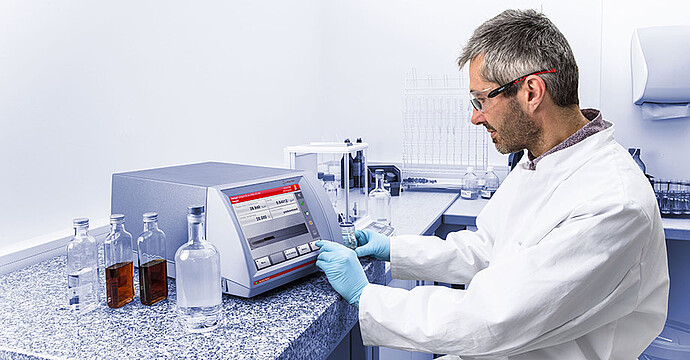 The benchmark for density measurement
DMA 5000 M is the go-to product for the highest authorities when perfection is required. The unshakeable density results from DMA 5000 M are essential in work at:
Standards organizations
Government laboratories
Major distilleries and taxation offices
High-end research in all industrial branches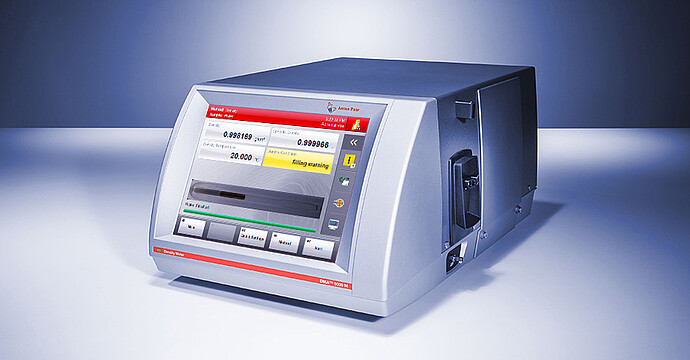 The most in-depth insight into your samples
The U-View™ camera feature displays and stores live images of the oscillating U-tube sensor and the entire filled-in sample so you have the details at hand any time you want
The unique combination of U-View™ and FillingCheck™, the automatic real-time bubble detection feature, monitors the entire measurement sequence and allows later verification of the results, which is particularly useful when using automatic sampling systems
DMA 4100 M
DMA 4500 M
DMA 5000 M
Patents granted

AT 516420 (B1)
AT 517082 (B1)

AT 516420 (B1)
AT 517082 (B1)

AT 516420 (B1)
AT 517082 (B1)

Patents pending
Measuring range

Density: 0 g/cm³ to 3 g/cm³
Temperature: 0 °C to 100 °C
(32 °F to 212 °F)
Pressure: Up to 10 bar (145 psi)

Density: 0 g/cm³ to 3 g/cm³
Temperature: 0 °C to 100 °C
(32 °F to 212 °F)
Pressure: Up to 10 bar (145 psi)

Density: 0 g/cm³ to 3 g/cm³
Temperature: 0 °C to 100 °C
(32 °F to 212 °F)
Pressure: Up to 10 bar (145 psi)

Repeatability s.d.(1)

Density: 0.00001 g/cm³
Temperature: 0.02 °C/0.04 °F

Density: 0.000005 g/cm³
Temperature: 0.01 °C/0.02 °F

Density: 0.000001 g/cm³
Temperature: 0.001°C/0.002°F

Reproducibility s.d.(1)
Accuracy(2)

Density: 0.0001 g/cm³
Temperature: 0.03 °C/0.05 °F

Density: 0.00005 g/cm³
Temperature: 0.02 °C/0.04 °F

Density: 0.000007 g/cm³
Temperature: 0.01 °C/0.02 °F

Digital Resolution
Integrated tables and functions

Alcohol tables
Extract/sugar tables
API functions
Acid/base tables
150 freely programmable tables/user functions (tables, polynomials, formulas, linear functions, and constants)

Alcohol tables
Extract/sugar tables
API functions
Acid/base tables
150 freely programmable tables/user functions (tables, polynomials, formulas, linear functions, and constants)

Alcohol tables
Extract/sugar tables
API functions
Acid/base tables
150 freely programmable tables/user functions (tables, polynomials, formulas, linear functions, and constants)

Minimum sample amount
Measuring time per sample(3)
Dimensions (L x W x H)

495 mm x 330 mm x 230 mm
(19.5 in x 13 in x 9.1 in)

495 mm x 330 mm x 230 mm
(19.5 in x 13 in x 9.1 in)

495 mm x 330 mm x 230 mm
(19.5 in x 13 in x 9.1 in)

Data memory

1000 measurement results
(optional ring memory)

1000 measurement results
(optional ring memory)

1000 measurement results
(optional ring memory)

Power supply

AC 100 to 240 V
50 to 60 Hz
190 VA

AC 100 to 240 V
50 to 60 Hz
190 VA

AC 100 to 240 V
50 to 60 Hz
190 VA

Weight
Interfaces

4 x USB
RS-232
CAN
VGA
Ethernet

4 x USB
RS-232
CAN
VGA
Ethernet

4 x USB
RS-232
CAN
VGA
Ethernet

Display

Bright 10.4" TFT PCAP touchscreen (640 x 480 px) with customizable display layout

Bright 10.4" TFT PCAP touchscreen (640 x 480 px) with customizable display layout

Bright 10.4" TFT PCAP touchscreen (640 x 480 px) with customizable display layout

Wetted parts
Industries

Beverages
Chemical Industry
Cosmetics, Personal Care
Electronics
Environmental
Food Industry
Petroleum Industry
Pharmacy, Medicine, Biotechnology

Beverages
Chemical Industry
Cosmetics, Personal Care
Education, Research
Electronics
Environmental
Food Industry
Petroleum Industry
Pharmacy, Medicine, Biotechnology

Beverages
Chemical Industry
Cosmetics, Personal Care
Education, Research
Electronics
Environmental
Pharmacy, Medicine, Biotechnology
(1) according to ISO 5725
(2) under ideal conditions and for low densities/viscosities
(3) After temperature equilibration
2020 Chinese Pharmacopoeia
0601-relative density determination method
ASBC
Beer-2B: Specific Gravity by digital density meter (1978)
Beer-5: Real Extract (B. Beer measured gravimetrically (1958), C. Real Extract determined refractometrically (1982))
CPTC
SH/T 0604-2000 eqv. ISO 12185
European Union
Spirits drinks: COMMISSION REGULATION (EC) No 2870/2000
Wines: COMMISSION REGULATION (EC) No 128/2004
Wines: COMMISSION REGULATION (EC) No 355/2005
Wines: COMMISSION REGULATION (EEC) No 2676/90
HM Revenue & Customs
Density measurement for the revenue accounting of spirits
OIV
Alcohol content in wine and musts
Analysis method for density measurement in wine and musts
Pharmacopoeia Europe (Ph. Eur.)
Ph. Eur. 2.2.5 - Relativ density
TTB
Density measurement in proofing alcohol for tax purposes
U.S. Pharmacopoeia (USP)
29 - Specific Gravity Method II
USP 841 - Specific gravity
Anton Paar Certified Service
The Anton Paar quality in service and support:
More than 350 manufacturer-certified technical experts worldwide
Qualified support in your local language
Protection for your investment throughout its lifecycle
3-year warranty
Learn more