This is a required field.
Invalid
Part number
Error in validation!
Accessories for MCR:

Ball Measuring System & Building Material Cell
+4
Accessories for extended material characterization
Measuring systems for large-particle rheology
Designed for building materials, food products, slurries, and sludges
Built-in temperature control
Looking for consumables & accessories for this product?
Click here
Ball Measuring System & Building Material Cell
Contact
Accurate rheological characterization of suspensions with large particles is a challenge. Standard measuring geometries like cone-plate, parallel-plate, or concentric cylinders are only suitable for materials with no or very small particles and granulates. The Ball Measuring System (BMS) and the Building Material Cell (BMC) overcome this limitation and open the door to large-particle rheology.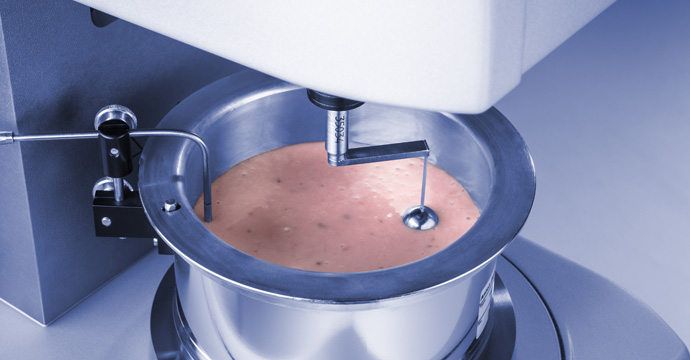 Ball Measuring System: Opens the door to large-particle rheology
The Ball Measuring System (BMS) is designed to measure the flow properties of samples with large particles such as many food samples (typical particle size of such samples ranges between 1 mm and 10 mm). The measuring principle, developed by Müller-Thyrach*, is based on an eccentrically rotating ball (sphere) in a cup which avoids undesired slipping, gliding, and disturbing edges. The ball is available in various diameters to be able to measure a large range of sample viscosities. Accurate temperature control of the sample is possible in a range between -10 °C to 70 °C. Due to the outstanding motor control, a full flow and viscosity curve can be recorded in one single revolution of the measuring system. An integrated analysis of the produced flow field allows the online calculation of rheological parameters such as viscosity and shear rate.
Suitable rheometers: MCR series, RheolabQC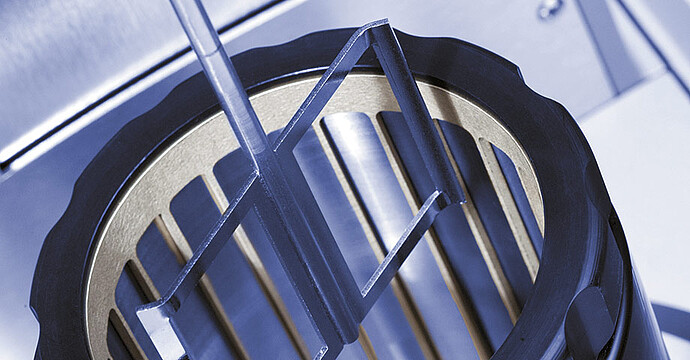 Building Material Cell: Designed for quality control and product development
The Building Material Cell (BMC) enables measurements of suspensions and paste-like materials with a particle size up to 5 mm, such as building materials (cement, concrete, plaster), providing reliable information on processability, shelf life, and flowability. The exchangeable, robust, and easy-to-clean inset cage and special stirrer are resistant to abrasive materials, prevent sample slippage, and provide improved mix-up effects to avoid separation. All surfaces which are in contact with the sample are made of stainless steel. The needed sample volume is significantly lower compared to the Ball Measuring System and Peltier temperature control of the sample is possible in a range from 0 °C to 90 °C. For sophisticated rheological characterization all typical test modes are available, including dynamic measurements in oscillation.

Suitable rheometers: MCR series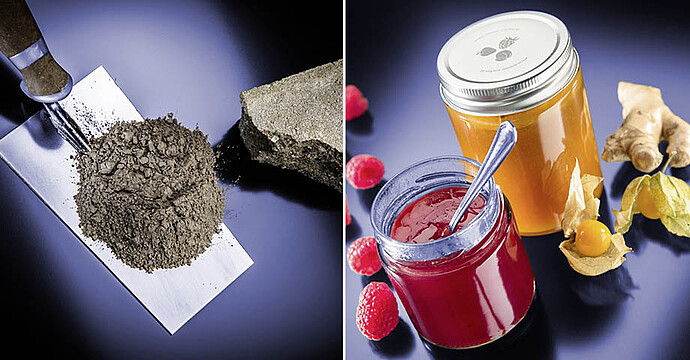 Direct rheological characterization of real-life samples
A variety of real-life materials contain large particles by design. These particles can play an important role for the mouthfeel of food products, the general flow properties, setting behavior, and the influence of additives in building materials. Hence, these particles cannot be avoided during the production process and in the finished product.
Typical examples for such materials include:
Building materials (e.g. cement, concrete, plaster)
Food products (e.g. marmalade with fruit pieces, meat sauce, rice pudding)
Other coarse suspensions (e.g. slurries and sludges)

Read more about rheological investigations of building materials

Anton Paar Certified Service
The Anton Paar quality in service and support:
More than 350 manufacturer-certified technical experts worldwide
Qualified support in your local language
Protection for your investment throughout its lifecycle
3-year warranty
Learn more
*LÄUGER, J., MÜLLER, M., TYRACH, J. (1999). A new ball measuring system for large particle suspensions. Applied Rheology, July/August pp. 145–147.