Podstawy reologii w teorii i praktyce IARBA001
Description: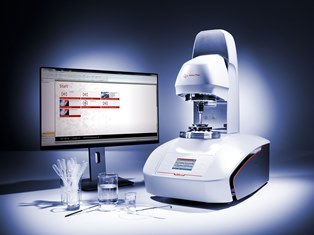 Seminarium reologiczne poświęcone będzie podstawowym zagadnieniom reologii i mechaniki płynów, dodatkowo zostanie rozszerzona część reologii emulsji, kremów, past, cieczy i ciał lepkospręzystych. Przedstawiona zostanie metodyka pomiarów lepkości i lepkosprężystości. Zwieńczeniem seminarium będą badania Państwa próbek na reometach oraz możliwość dyskusji i omówienia otrzymanych wyników.
Program:
Teoria
Podstawy reologii rotacje
Podstawy reologii oscylacje
Reologia w przemyśle kosmetycznym i nie tylko
Praktyka w Laboratorium
Reologia w praktyce, praca na reometrach
Certyfikaty: Seminarium zakończy się rozdaniem Certyfikatów.
Próbki do badania: Możliwość badania próbek własnych. Proszę o opis przygotowanych próbek (zakresy lepkości, zakres temperatur, rodzaj testu, jeżeli jest to sprecyzowane: czy są to ciecze, żele , pasty, ciała stałe lub inne).
Koszt uczestnictwa i zgłoszenia: PLN 250,00 netto.
Przyjmujemy maksymalnie dwa zgłoszenia z jednej firmy. Ilość miejsc ograniczona, decyduje kolejność zgłoszeń.
Instruktor:
Dr Rafał Flamholc jest Menadżerem sprzedaży, absolwent Wydziału Chemii Uniwersytetu Łódzkiego. Pracuje w firmie Anton Paar Poland od czterech lat. Od trzech lat zajmuje się reologią, jest aplikacyjnym wsparciem dla klienta, organizuje seminaria i warsztaty reologiczne dla różnych dziedzin przemysłu.
Date: 1970-01-01, 02:00 - 02:00 (CET UTC+01:00)
Venue: Warszawa, Polska, Anton Paar Poland Sp. z o.o. Warszawa
Language: Polski
Number of participants: 10
Organizer: Anton Paar Poland Sp. z o.o.
Trainer: dr Rafał Flamholc
Costs: PLN 250,00 netto
End of registration: 2019-09-18
Hotel: Hotel Plaza
Hotel reservation: Możliwość rezerwacji noclegu, zgodnie z dostępnością w hotelu. Uwaga: Koszt noclegu ponosi uczestnik.
Contact person and registration:
dr Rafał Flamholc
Tel.: +48 604 977 327
rafal.flamholc[at]anton-paar.com

Registration deadline is already over.
back