This is a required field.
Invalid
Part number
Error in validation!
Gas sorption analyzer:

QUADRASORB evo
360°
Static volumetric gas sorption analyzer for analysis of BET surface area and pore size
4 completely independent analysis stations for increased throughput
Optional micropore/krypton version including a turbo-molecular pump and 1 torr transducer
Looking for consumables & accessories for this product?
Click here
QUADRASORB evo is a high-performance surface area and pore size analyzer with four 100 % independent analysis stations. It is designed to meet the throughput needs of any R&D or QA laboratory wanting reliable and accurate BET surface area and detailed pore size results. Essentially four units in one, with an optional micropore or krypton version, QUADRASORB evo is the most cost-effective and flexible solution for busy labs.
Specifications
Pressure transducers
6 1000 torr transducers (optionally one 1 torr transducer on Kr/MP models)
Transducer accuracy
1000 torr: 0.11 % full scale
1 torr: 0.15 % reading
Pressure resolution
0.016 torr (1000 torr range)
0.000016 torr (1 torr range)
Ultimate vacuum
5 x 10⁻³ mbar achieved by dedicated 2-stage direct-drive rotary pump (not included)
1 x 10⁻⁹ torr achieved by turbo-molecular vacuum pump (included in Kr/MP models)
Adsorbates
Nitrogen and any other non-corrosive gas with appropriate coolant
Surface area range
0.01 m²/g to no known upper limit (nitrogen)
0.0005 m²/g to no known upper limit (krypton), (Kr/MP model only)
Pore volume
Detectable limit <0.0001 cc/g
Pore size range
3.5 Å to >4000 Å (0.35 nm to >400 nm)
Number of independent Dewar (coolant) baths
4
Coolant level
Automatically maintained at a level around the sample cell to minimize cold zone volume
Number of degassing stations
Zero (required purchase of separate degassing unit)
Physical environmental properties
Dimensions (W x D x H)
63.7 cm x 53.3 cm x 73.6 cm
(25.25 in x 21.0 in x 29.0 in)
Weight
57.5 kg (127 lbs)*
Electrical
100 VAC to 240 VAC, 50/60 Hz
Environmental
10 °C to 38 °C operating range at 90 % maximum relative humidity
*Standard (non-MP/Kr) version
Anton Paar Certified Service
The Anton Paar quality in service and support:
More than 350 manufacturer-certified technical experts worldwide
Qualified support in your local language
Protection for your investment throughout its lifecycle
3-year warranty
Learn more
Consumables & Accessories
Consumables & Accessories
Not all items are purchasable online in specific countries.
To find out if you can purchase online from your location, check the online availability below.
Online price only
|

excl.

incl.

0

VAT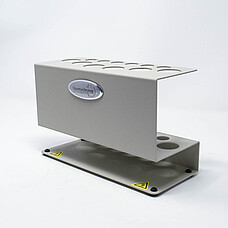 SAMPLE CELL COOLING RACK ASSY
Delivery time:
%1$s – %2$s working days
%1$s – %2$s weeks
%1$s – %2$s months
Part number: 193300
TYPE B ROD, FOR 12 mm SHORT CELL
Delivery time:
%1$s – %2$s working days
%1$s – %2$s weeks
%1$s – %2$s months
Part number: 193905
Product details
Flared filler rod (cell insert) for 12 mm, short, type B cells. Nominal Dimensions: 9 mm diameter, 128.5 mm long.