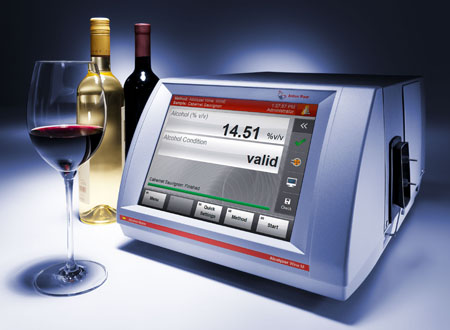 This is a required field.
Wine Analysis System:


Alcolyzer Wine M/ME
Selective alcohol determination uninfluenced by other ingredients
Measure the alcohol content of wine, sparkling wine, cider, and sake in less than three minutes
Obtain highly accurate results, independent of type and vintage
Minimum sample preparation and short measuring cycles
Use the Alcolyzer Wine M/ME wine analysis system to determine the alcohol content of your wine quickly and easily. When combined with a density meter, Alcolyzer Wine M/ME determines further parameters in a single cycle, e.g. extract content. The measuring method for selective alcohol determination eliminates the influence of other sample constituents on the alcohol measurement and therefore guarantees highly precise results.
Efficient and high-performance wine analysis
Measure the alcohol content of wine, sparkling wine, cider and sake from 0 to 20 %v/v
Other wine constituents have no influence on the alcohol analysis
Fill the measuring cell via syringe, peristaltic pump or automatic sample changer
Low sample volume, high sample throughput
Optional pH and turbidity measurement
Save time in the lab
Minimum sample preparation
Short measuring cycles
No cleaning between samples
Universal adjustment saves you time
Adjustment/calibration with water and an alcohol/water solution
One single adjustment is valid for all your samples
10.4" touchscreen
Applies state-of-the-art PCAP technology
Provides a premium user experience
| | |
| --- | --- |
| Measuring range | 0 to 20 %v/v |
| Repeatability s.d. | ±0.01 %v/v alcohol |
| Temperature control | Built-in solid-state thermostat (Peltier) |
| Temperature repeatability | ±0.01 °C |
| Minimum amount of sample | 3 mL |
| Typical measuring time per sample | 2 minutes |
| Sample throughput | 10 to 30 per hour |
| Interfaces (Master instrument) | 4x USB (for USB flash drive, keyboard, mouse, barcode reader or printer), Ethernet (LAN), RS-232, CAN |
| Interfaces (Module) | CAN |
O
OIV Alcohol content in wine and musts
Anton Paar Certified Service
The Anton Paar quality in service and support:
More than 350 manufacturer-certified technical experts worldwide
Qualified support in your local language
Protection for your investment throughout its lifecycle
3-year warranty
Learn more