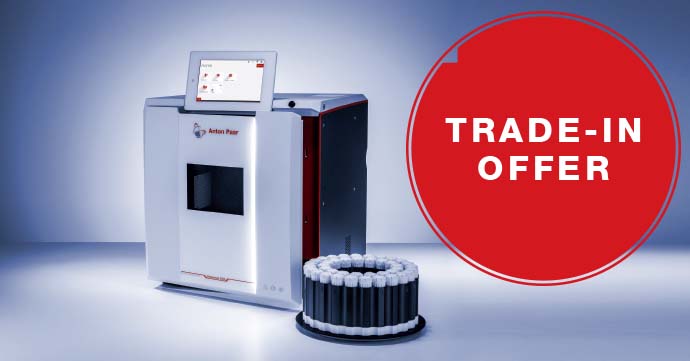 Multiwave 5000 Trade-In
Trade in your old microwave digestion system and boost your productivity
Buy one, get one free: Trade in your old lab microwave (any brand) for an Anton Paar Multiwave 5000 and an HVT Rotor with 24 or 41 vessels, and get a second set of HVT vessels for free.* With Multiwave 5000, benefit from more than 40 years of experience in sample preparation, incorporated in an instrument that perfectly meets the needs of today's lab chemists.
*This offer is available for a limited time only.
With the HVT vessel concept you get:
Innovative design for fast heating and cooling and a long vessel lifetime
Different samples can be digested in a single run
Wide range of applications
Easy to close and to open
Minimal cleaning effort
When combined with the Multiwave 5000's analytical performance and intuitive user interface, these HVT vessels are the ideal match for any elemental analysis laboratory.
Learn more about Multiwave 5000
Why Anton Paar:
Free two-week trial
Your new instrument comes with a three-year warranty
Our strong support network is available wherever you are
We help you transfer methods from your old microwave to Multiwave 5000, which ensures that you're working again quickly
Free one-day, on-site training
Free lifetime application support
Get your new Multiwave 5000