This is a required field.
Invalid
Part number
Error in validation!
Abel Flash Point Tester:

ABA 4
Automatic Abel closed-cup flash point tester, compliant to ISO 13736 and more
Flash point applications of jet fuels, solvents, chemicals, and more
Two cooling systems, liquid or air, with Peltier elements available
Two ignition systems, electric and gas, included with each unit
Looking for consumables & accessories for this product?
Click here
The automatic Abel closed-cup tester measures the flash point, the lowest temperature at which the vapors of a sample ignite upon the application of an ignition source. The tester can also be used to detect the ability of a sample to yield flammable vapors when maintained at an equilibrium temperature by the flash/no flash method.
ABA 4 is suitable for flash point applications of jet fuels, solvents, chemicals, etc.
Benefits at a Glance
Two cooling systems with Peltier elements according to the new ISO 13736 standard: an economical air-cooled model and a low-temperature version with external water cooling
The two ignition systems in each unit give you the flexibility to work with an electric or gas igniter: if the gas ignition is used, the electric igniter will automatically relight the gas flame during the test, if necessary
The One-Twist swivel-around multi-function head guarantees the safe and easy one-hand connection of all sensors and actuators such as the shutter release, stirrer, igniter and detector contacts
An extended measuring range up to 110 °C enables you to go beyond the conventional scope of the Abel method
Convenient Operation
Test initiation by pre-installed standard test methods and ability to customize methods by user-defined programs
Outside flame sensors increase the system's safety, especially for work with samples that have no conventional flash point but burn outside the test cup (e.g. due to flame-inhibiting components)
Splashproof touch-key panel with large LCD
A multi-detector combines the flash point detector and the temperature probe in a solid housing with a perfectly adjusted immersion depth
A probe verification program checks the proper functioning of the temperature probe and allows a bias adjustment by using a special calibration kit (optional)
Customized User Flexibility
PC-software FPPNet (optional) for convenient remote handling and test data storage
Insulation hood (optional) to protect the cover and shutter assembly from icing during low-temperature flash point tests
Abel-Pensky test insert (optional)
Calibration set (optional)
Stainless steel or small-volume sample cup (optional)
Application range
(°C/°F selectable)
10 °C to 110 °C (air-cooled)
-30 °C to 110 °C (liquid-cooled)
Ignition
Gas and electric (interchangeable)
Heating
According to method or user-defined
Stirring
According to method or user-defined
Cooling of
Peltier elements
Air-cooled (by built-in fan)
Liquid-cooled (with tap water or circulation cooler)
Flash detection
Thermocouple
Barometric pressure correction
Automatic correction
Safety
Overheat protection, automatic shut-off
Interfaces
2x RS232
Gas supply
50 mbar of propane or butane
Power supply
115 V/230 V, 50 Hz/60 Hz, 180 W (air-cooled)
230 V, 50 Hz/60 Hz or 115 V, 60 Hz, 150 W (liquid-cooled)
Dimensions
230 mm x 470 mm x 470 mm (W x D x H)
Weight
8 kg
Resolution
0.1 °C
Anton Paar Certified Service
The Anton Paar quality in service and support:
More than 350 manufacturer-certified technical experts worldwide
Qualified support in your local language
Protection for your investment throughout its lifecycle
3-year warranty
Learn more
Consumables & Accessories
Consumables & Accessories
Not all items are purchasable online in specific countries.
To find out if you can purchase online from your location, check the online availability below.
Online price only
|

excl.

incl.

0

VAT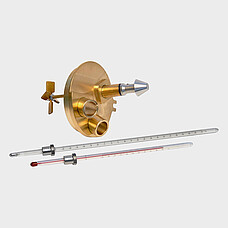 CALIBRATION SET (ABA)
Delivery time:
%1$s – %2$s working days
%1$s – %2$s weeks
%1$s – %2$s months
Part number: 107191
Product details
Set for the on-site calibration of the sample temperature sensor. The Pt100 temperature sensor is dynamically calibrated against certified liquid-in-glass thermometers. The set consists of:
- 1 calibration lid (P/N 107190)
- 1 certified thermometer similar to IP 74C (P/N 187239)
- 1 certified thermometer IP 2C (P/N 106966)