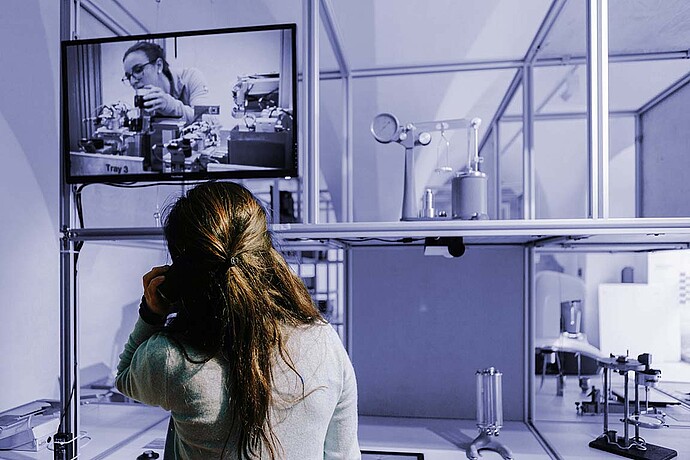 100 years of Anton Paar at the Graz Museum
2022-02-10

| Corporate
The Graz Museum dedicates an exhibition to Anton Paar in the course of it's 100th anniversary. exhibition gives insights into the company's history and is named "exakt! Anton Paar measures the world"
In 1922, Anton Paar founded a one-man machine shop in Heinrichstraße in Graz. Today – 100 years later – the company is a measurement technology company, market-leading in the fields of density and concentration measurement, as well as rheometry.
Wandering along Anton Paar's tracks
During the anniversary year 2022, the company places a special focus on its history and organized the exhibition "exakt! Anton Paar measures the world" together with the Graz Museum. "The idea for the exhibition came from our employees," CEO Friedrich Santner states. In the last months, the exhibition materials were put together by the team of the museum together with employees of Anton Paar. The two curators, Beat Gugger and Bernhard Bachinger, conceived an exhibition to see, hear and explore.
Besides videos, there are old documents, pictures and instruments which make you wander along Anton Paar's and his daughter Margareta Platzer's tracks; she was the first female master machinist in Styria. The exhibition also shows the development from the one-man machine shop to the global company it is today. In the 1950s, the company developed its first scientific measuring instrument – the Kratky Small-Angle X-Ray Camera –, together with the Graz University. When Ulrich Santner, Margareta Platzer's son-in-law took over the management of the company in 1963, the focus was even more on cooperation with universities. The rise to an international successful company succeeded in the 1990s, and can be especially attributed to present CEO Friedrich Santner, Ulrich Santner's son-in-law.
By now, Anton Paar has 42 subsidiaries all over the world and recorded a record revenue in 2021. "If there was no tradition – the passing on of handcraft and knowledge – we wouldn't exist. And if there was no innovation – the search for the new, for progress, for the better – maybe we would still be a small company in Heinrichstraße," says Friedrich Santner about the success.
The exhibiton runs unil July 3rd, 2022, with free admission. As part of the opening, all current exhibitions at the Graz Museum can be visited for free on Saturday, February 12th, 2022.
There is also a special highlight for everyone who is not able to visit the exhibition at the Museum in person. There is the possibility to click through the bilingual (EN/DE) online exhibition and immerse into the world of Anton Paar.
Anton Paar and the Graz Museum are looking forward to numerous visitors!