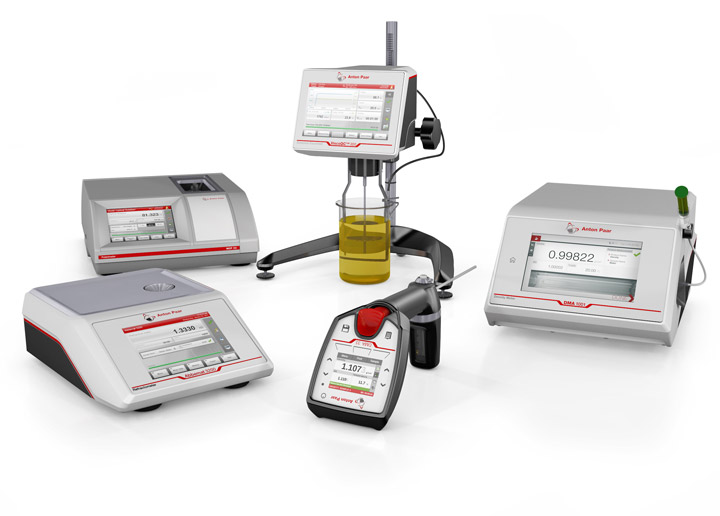 Digitalize your laboratory
Are you currently using analog techniques to ensure the quality of your sample in terms of density, viscosity, refractive index, or optical rotation? This is definitely a huge hurdle in achieving consistent quality control of your goods and operations might differ from user to user.
Let Anton Paar help you to digitalize your lab and benefit from the following:
Get the most out of your samples: From liquids to paste-like samples regardless of their sample properties
Go digital: Easy measurement routines that eliminate human errors and the user-dependence of results
Experience unrivalled usability: Modern design meets functionality
Full compliance: Traceable results fulfilling all regulations of 21 CFR Part 11
Full traceability: From your first work step to the final result
Save time and money: Lean back and get your qualification done by Anton Paar
Choose 2 or more Anton Paar instruments and get an attractive discount for your instrument combination.
Select from:
The DMA 1001 density meter provides 4-digit accuracy and is therefore fully compliant with Pharmacopoeia and 21 CFR Part 11. The DMA 501 density meter provides 3-digit accuracy and is perfect for quick quality checks of pasty, inhomogeneous, and particle-containing samples. DMA 35 is a portable density meter that provides the fastest filling. Gesture control, sample and data handling via Bluetooth and RFID interfaces make DMA 35 easy to use in the field.
Full traceability of your results is guaranteed thanks to the automatic instrument alignment check, automatic spindle recognition, and spindle guard detection. With the Peltier temperature device, the most precise sample temperature control is guaranteed. Choose between the digital viscometer ViscoQC 100 to bring simplicity to your daily single-point viscosity checks or ViscoQC 300 for multi-point checks, and a lot more.
The Abbemat 3X00 refractometer series provides all essential features and ensures intuitive handling. These truly universal refractometers cover a broad range of applications in all industries without taking up much space, time, or money. These out-of-the-box instruments are the ideal solution for small laboratories that require straightforward measurements without any complex data processing.
The Modular Compact Polarimeters MCP 100 and MCP 150 are the perfect choice when there is only limited space on the lab bench but pharma compliance is required. Wireless accessories make daily routines easier and safer. With Peltier temperature control, the risk of measurement errors due to inaccurate sample temperature is eliminated. In addition, maintenance is kept to a minimum as the durable LED light source allows measuring for about 100 000 hours.