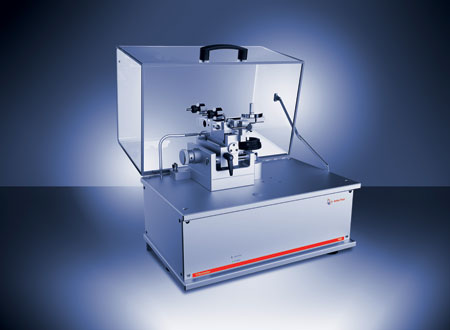 Pin-on-Disk Tribometer (TRB)
The Pin-on-Disk Tribometer is a table-top instrument, which is compact and can be installed on any stable table. With its combined computer control and TriboX software, it represents an easy-to-use instrument for all materials laboratories interested in conducting Tribological tests. Moreover, the installation is extremely easy: it is a "Plug and Play" instrument.
The Tribometers have proven their reliability in over hundreds of laboratories worldwide, for studying:
New materials (ceramics, metals, polymers)
Lubricants and oil additives
Self-lubricating systems
Quality assurance
Get in touch
Technical features:
Precisely calibrated friction and wear measurements
Stable contact point and no parasitic friction
Variable sample sizes and shapes
Automatic switch-off (track length / friction coefficient)
Test in liquids and controlled humidity
Testing compatible with DIN 50324 and ASTM
Software package for PC-controlled data acquisition and instrument control, featuring real-time graphical data display, friction and wear coefficients, sliding lifetime, etc
Possibility to perform a cross section profile of the wear track by making a pause during the test without modification of the experimental set-up.
Additional capabilities:
Having the possibility to measure a 10 N Friction force in a standard test enables to characterize not only low friction coatings but also higher friction materials such as conventional systems like steel-steel or Alumina-steel without any limitations.
Easy verification and calibration of radius sensor, rotational speed and friction sensor.
Control of the sample wear rate online
Study of the sample plastic deformation online
Rotation speed

1 to 500 rpm
(optional 1500 rpm)
Maximum torque
450 Nmm
Friction force (LVDT sensor)
up to 10 N
(optional 20 N)
Maximum disk dimensions
Ø max. 60 mm
Maximum disk thickness
up to 15 mm
Maximum normal load
10 N
(optional 60 N)